For the third time in a month NatWest customers are yet again experiencing problems being able to access their credit card information on the mobile app.
In December thousands of Christmas shoppers were forced to head to their branch to access their latest transactions.
Then on Black Friday NatWest customers were unable to use their online banking and mobile app, as it appears the bank is struggling with their IT framework.
NatWest customers took to Twitter on New Years Eve to complain, one wrote, "Not just credit card customers. My normal bank accounts are showing weird."
Third time in a month Natwest. Seriously?

— Jacqueline Williams (@marmajam_cr8) December 31, 2019
A customer called Geoff wrote, "Seriously? Down time on NatWest IT is becoming a practically weekly occurrence! HOW can a banking organisation of your size not be able to address this?"
Can't even get onto your website homepage let alone online banking or the app!

— James Gulleford (@jamesg163) December 31, 2019
NatWest said on Twitter, "Some customers aren't currently able to view their credit card information on our mobile app or Online Banking.
"We're working hard to fix this, sorry if it's causing you any issues."
The Royal Bank of Scotland (RBS) is also affected and gave the same message on Twitter.
…aren't currently able to…
RBS putting a positive spin on yet another negative announcement.

— John Robinson (@JohnRobUK) December 31, 2019
An RBS customer told LondonLovesBusiness that "they are fed up with the continued IT problems with the bank and are moving over to Starling Bank, depsite having banked with RBS for over 20-years."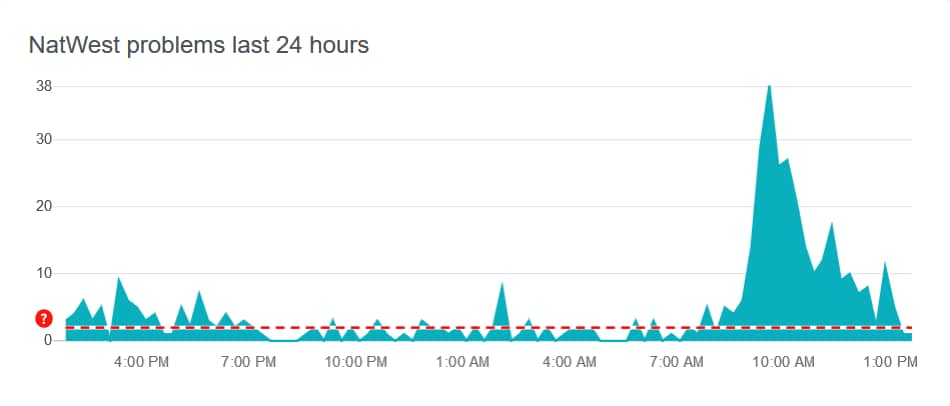 Downdetector map shows the affected areas of the outage along with the time of incidents of services going down.
Shortly before 2pm on Tuesday NatWest announced that "Customers can now view their credit card information in our app and Online Banking.
"Sorry if you had trouble with it earlier and thanks for your patience while we fixed the issue. Let us know if you still need help with anything."