Chris Holmes quits job to pursue sweet success
As a way of serving up your resignation to the boss, few could top this.
Chris Holmes took the chance on Monday, on the occasion of his 31st birthday, to write his resignation to his Border Force bosses in Stansted Airport.
As a way of sugaring the pill, Holmes served up his message on a cake.
"Having recently become a father, I now realise how precious life is and how important it is to spend my time doing something that makes me, and other people, happy," he began, in ornate icing on the cake.
What was the cherry on the cake? He was off to pursue his dream of setting up his own cake business, Mr Cake.
Bill Form, Border Force Assistant Director at Stansted, confirmed the delicious developments: "Chris handed in the cake, along with a more formal letter, yesterday.
"He leaves with our very best wishes and we wish him well for the future."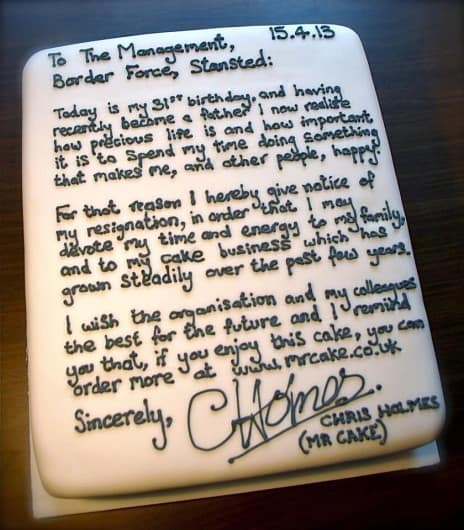 Source: Stuart Jackson Twitter
(The site isn't open yet but watch this space for a new addition on the cake-making scene.)
One thing is clear: making a splash on social media has been a piece of cake for Chris Holmes.
So, my brother-in-law has resigned from his 9-to-5 job in spectacular fashion. Jerry Maguire meets Masterchef. twitter.com/ee_stu/status/…

— stuart jackson (@ee_stu) April 16, 2013