London's famous for a lot of "most expensive" things but this one really takes the err, bun.
London restaurant Honky Tony is now serving the "Glamburger" which boasts Canadian lobster, Kobe beef and black truffle brie. Why the £1,100 pricetag? It has an edible gold leaf.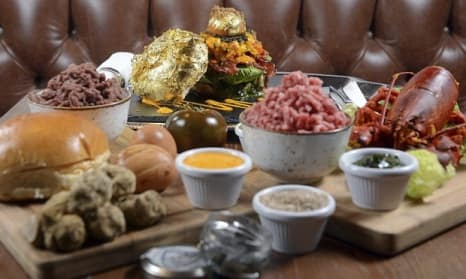 The patty has been garnished with Himalayan salt, maple syrup, beluga caviar and a hickory smoked duck egg.
Ingredients
Kobe Wagyu beef
New Zealand venison
Canadian lobster
Black truffle brie
Iranian saffron
Maple syrup-coated bacon
Hickory-smoked duck egg
Gold leaf coated brioche bun
Japanese matcha and cream mayonnaise
Mango and Champagne jus
Grated white truffle
Source: Groupon
The burger has been created to celebrate the Chelsea restaurant's five millionth voucher sold with Groupon.
Chris Large, head chef at Honky Tonk, said: "After sourcing the best possible ingredients to create this masterpiece, the winner will certainly have a dinner to remember."