Each week we select a pick of London events from our What's on pages, so you are always kept in the know…

Monday: Stephen MR Covey: Seven habits of highly effective people at Queen Elizabeth Hall, Southbank Centre
With the fear of pink slips looming large, this event is a must if you want to improve your efficiency and working habits. Taking a cue from his father's best-selling book, The Seven habits of highly effective people, Covey explores the enigmatic seven habits you need to impress your boss and get that promotion you have been vying for.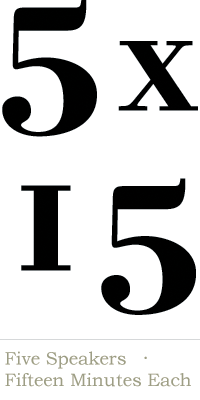 Monday: 5×15: Featuring. Raymond Tallis, Simon Garfield, Luke Johnson, Sonia Faleiro at The Tabernacle, 34-35 Powis Square
With no scripts and 15 minutes each, 5×15 has dynamic thinkers from all walks of life recounting their stories of adventure, passion and obsession.
Past speakers include historian Niall Ferguson, comedian Ruby Wax and famous chef Yotam Ottolenghi.
To know more, read our review of 5×15's slick yet spontaneous performances
Wednesday: Business continuity issues for the London Olympics at British Arab Commercial Bank
Walking to work? Or working from home? This event draws speakers from the public, security services and commercial sector on what London businesses should do to prepare for the Games.
Friday: London investor show at Olympia Two, Earls Court & Olympia
Who doesn't want deeper pockets? This event will show all you private investors, whether novice or seasoned, the tricks of the trade of the stock market, long-term investments and spreadbetting.
Don't miss out on the live, lunchtime summit chaired by the London Stock Exchange,
Friday-Sunday: The Bloomsbury Festival across London
From a beautiful lantern parade at Russell Square to postcard painting, this event's got it all. Not to mention the fascinating walks, perceptive poetry, creative crafts amid amazing dance and
delicious food. Is there a better way to spend the weekend? 
Visit Londonlovesbusiness.com/whats-on for the full rundown of events happening across the capital.