From Bob, the Angel tube cat who landed himself a book deal to one of the last- remaining second hand bookshops, we got London's blogosphere to pick their best posts from 2011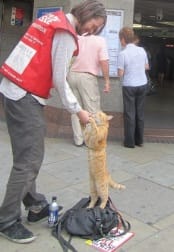 Author: Annie Mole
My favourite post of the year is the lovely story of James and Bob the Angel Tube Cat. James is a Big Issue seller who's normal patch is outside Angel Tube. He looked after a stray ginger tom cat, when he was ill and took him to a vet, and Bob has refused to leave him since then. Bob is often seen travelling on James's shoulder as walks around Islington and the pair are inseparable.  In August I was delighted to hear that they've secured a book deal and their touching story of how they healed the scars of their troubled pasts will be published by Hodder & Stoughton in March 2012. 
Since blogging this story, James & Bob have also appeared on the cover of The Big Issue and on the huge social network for cats – Catster.
Author: Ian Mansfield
It's the result of being told that a tunnel existed and may have been flooded, but no one ever offered more than a sentence or two about it.
This intrigued me, and the resultant blog post is the result of quite a bit of research into a piece of lost London history."
Just before midnight on the 9th September 1940, sailors up on deck of the cargo sailing ship, Seven Seas were watching an air raid by German bombers over the Charing Cross railway bridge when an explosion hit the river and a large wave struck the ship. A few moments later, a large fountain erupted out of the River Thames that lasted for about half a minute before dying away.
Eyewitnesses by the Hungerford Bridge reported a bomb impact in the area, and the report was confirmed by other people in the area about an hour later.
Author: Tom Jones
I love bookshops and I think you can tell a lot about an area by visiting the local one.
The Bookshop on the Heath, in Blackheath, South East London, is a lovely example, with a fine selection of local books and maps, and a treasure trove of bargain paperbacks, all priced at £1.80.
It is a must for any London bibliophile.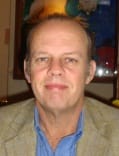 Authour: Mike Paterson
My favourite blog post for this year goes back to January and is about Philip Astley, the "founder of the modern circus".
First of all, I prefer to write about people rather than places or things. I always get a lot of pleasure from teasing out of the shadows an interesting historical character who may not be as well-known to the public as he should be.
Astley was a soldier, horseman, showman and entrepreneur who entertained the people of London, Dublin and Paris for many years. He invented the concept of having novelty acts such as clowns, acrobats and jugglers on the same bill as speciality equestrian troupes, and the public loved it. He was feted by commoners and aristocrats alike. Astley's, just south of Westminster Bridge, survived long after his death and right through the Victorian age. And yet, unlike Phineas Barnum, Buffalo Bill and Billy Smart, his name is largely forgotten. It was very satisfying to get a large number of reads to this."