Christmas jobs are emerging as a lifeline for the UK's rapidly rising number of jobseekers, with seasonal vacancies spiking by 1,181% since the beginning of September, analysis by the world's largest job site, Indeed reveals.
The recent hiring spree by employers – which saw the number of festive jobs advertised rise by 202% in the first 11 days of October alone – comes a full month later than normal, as Christmas recruitment typically begins in earnest in late August. 
 
Employers are likely to find no shortage of applicants. Indeed's analysis reveals that jobseekers have regarded seasonal jobs as particularly attractive ever since lockdown was declared.
 
In every month from March to July, Christmas vacancies posted on the platform received a higher share of clicks from jobseekers than the average job, with interest levels consistently higher than they were during the equivalent months in 2018 and 2019[2]. 
 
In May 2020, seasonal roles were clicked on nine times more frequently than non-festive jobs. By contrast, during the same month in 2019, festive roles received just four times more clicks than non-seasonal jobs. 
CHART: Ratio of clicks on Christmas/seasonal job postings versus all postings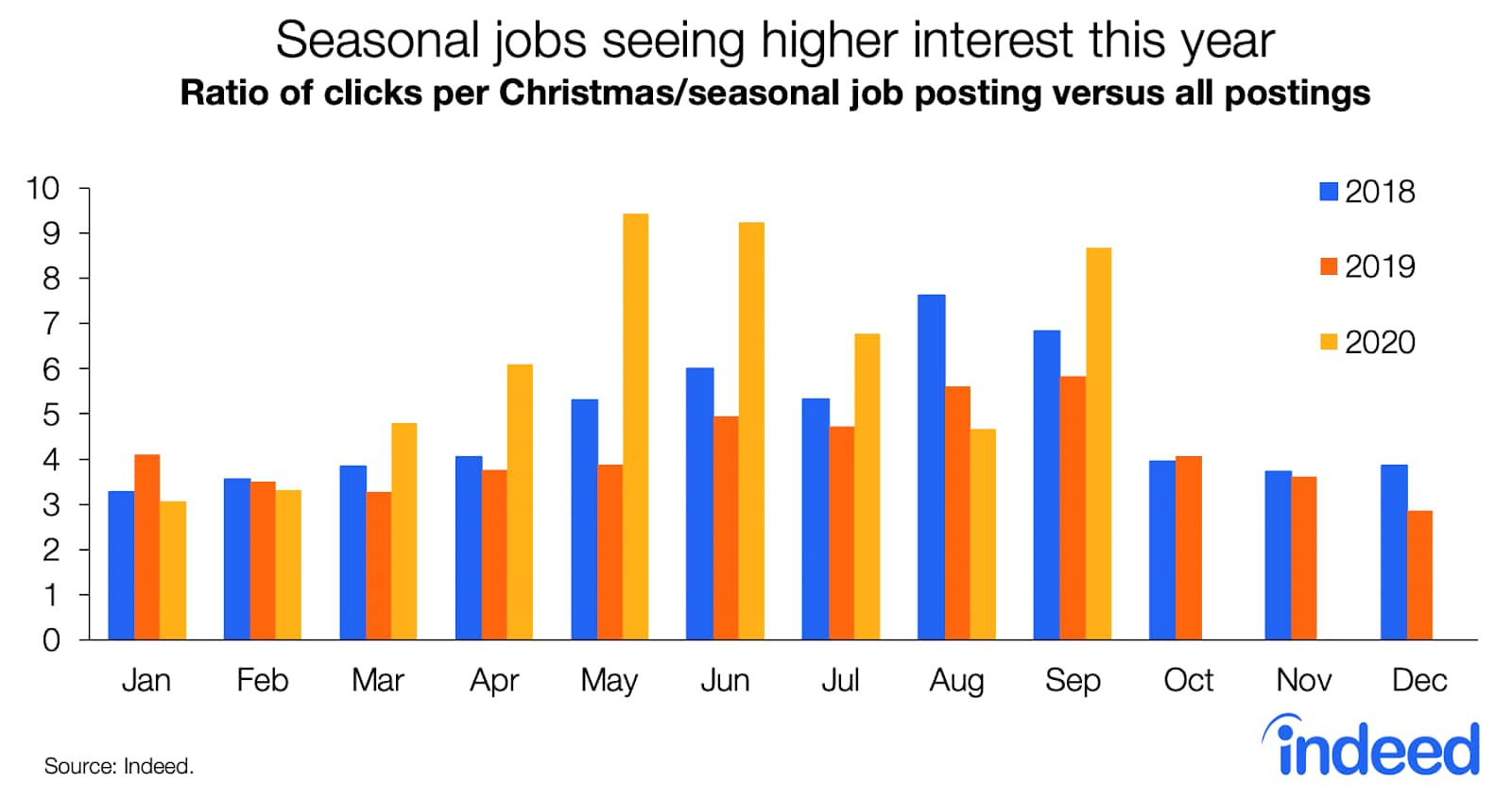 Jobseeker demand for Christmas roles dipped towards normal levels in July, and in August interest fell below that seen in the previous two years as the economy reopened, and recruiting started to take off again. However, since Coronavirus restrictions tightened in September, jobseeker demand for seasonal roles has once again surpassed 2019 and 2018 levels. 
Rising interest from jobseekers is also reflected in their search activity. The share of jobseeker searches containing the word "Christmas" rose 84% in the first two weeks of October compared with the previous fortnight, while searches containing "seasonal" were up 78%.  
In normal years, festive hiring usually starts to rise in late August, before soaring through September and October, and reaching a peak in November. 
Recruitment has started later this year, beginning in September and not taking off fully until September 30. There are signs of employers playing catch up, as seasonal job postings were broadly on par by 11th October 2020 to the same point in 2018 and 2019.  
CHART: Christmas and seasonal jobs per million jobs on Indeed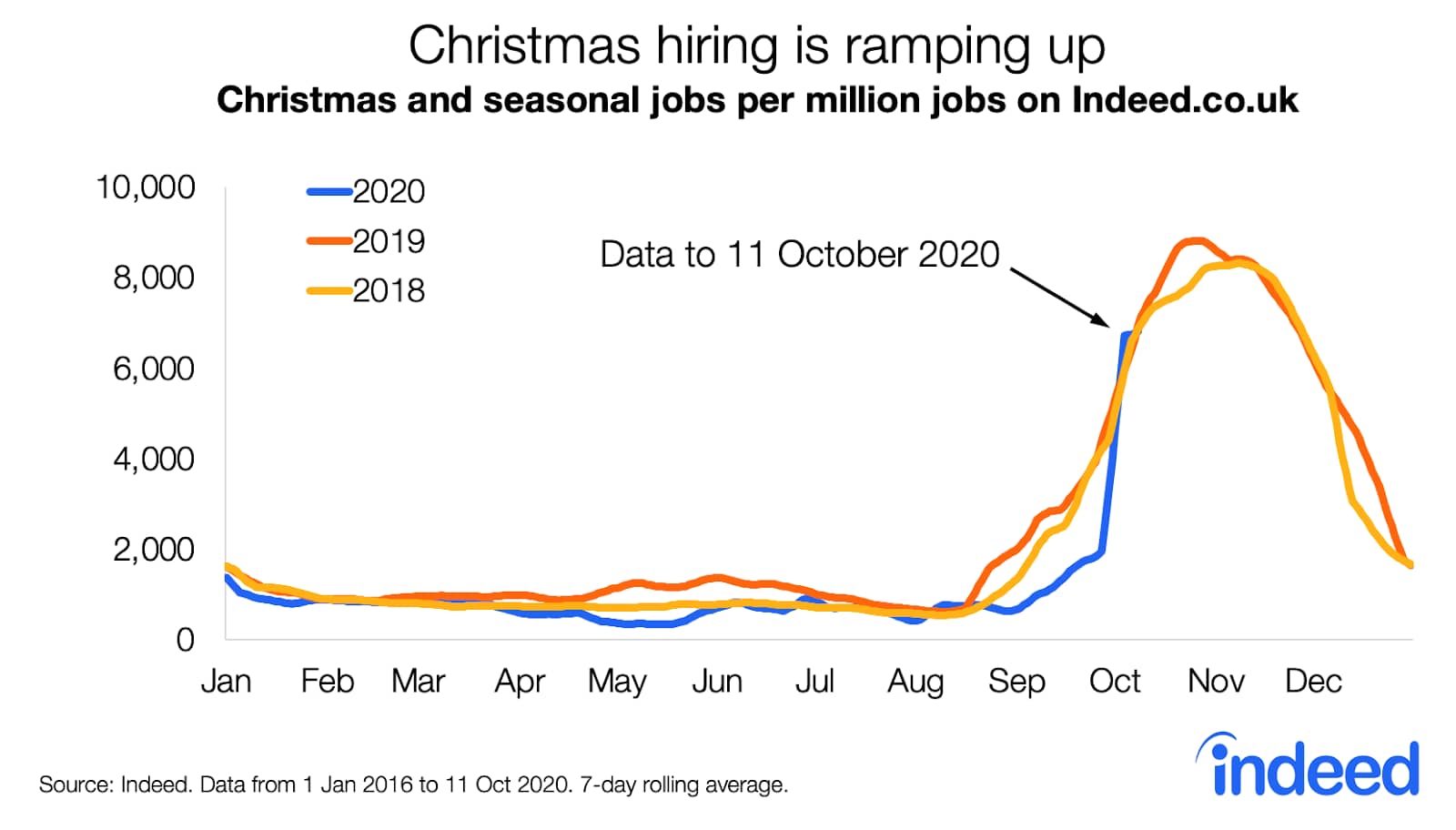 Seasonal retail and driving jobs have played a key role in the increase in Christmas vacancies, accounting for a higher proportion of postings in September 2020 than in the same month in 2019. 
Jack Kennedy, UK Economist at global job site Indeed said, "For years it has felt like Christmas was getting earlier and earlier, but not in 2020, when the festive hiring boom began more than a month later than normal. 
"With unemployment now at its highest level for three years, festive roles will be a lifeline for the 1.5 million people who are already out of work, and many more who are facing redundancy.
"At times this year a third of all retail spending has been online, and many of us are likely to do much of our Christmas shopping on the internet. Despite this, the number of retail roles being advertised is holding up well compared to 2019, and there has been an increase in the number of driving jobs to reflect the need for more deliveries.  
"However, recruitment in the food sector is lagging behind previous years, as the expected absence of Christmas parties means there is little demand for seasonal staff at restaurants and bars.
"Although hiring has started later this year, we still expect demand to peak in November as normal, so it is important that anyone looking to land a Christmas job starts applying as soon as possible."