Southwark Lib Dems have called on the Leader of the Council and the Labour group in Southwark to condemn the Labour Party's U-turn on self-id for trans people.
In the latest of a series of U-turns, the Labour Party has dropped its commitment to introducing self-id for trans people.
Leader of the Southwark Liberal Democrats, Cllr Victor Chamberlain, has written to the Leader of the Council calling on them to condemn Labour's change in policy.
Cllr Chamberlain also invited the leader of the council to submit a joint motion with the Lib Dems at the next council assembly supporting self-id for trans people.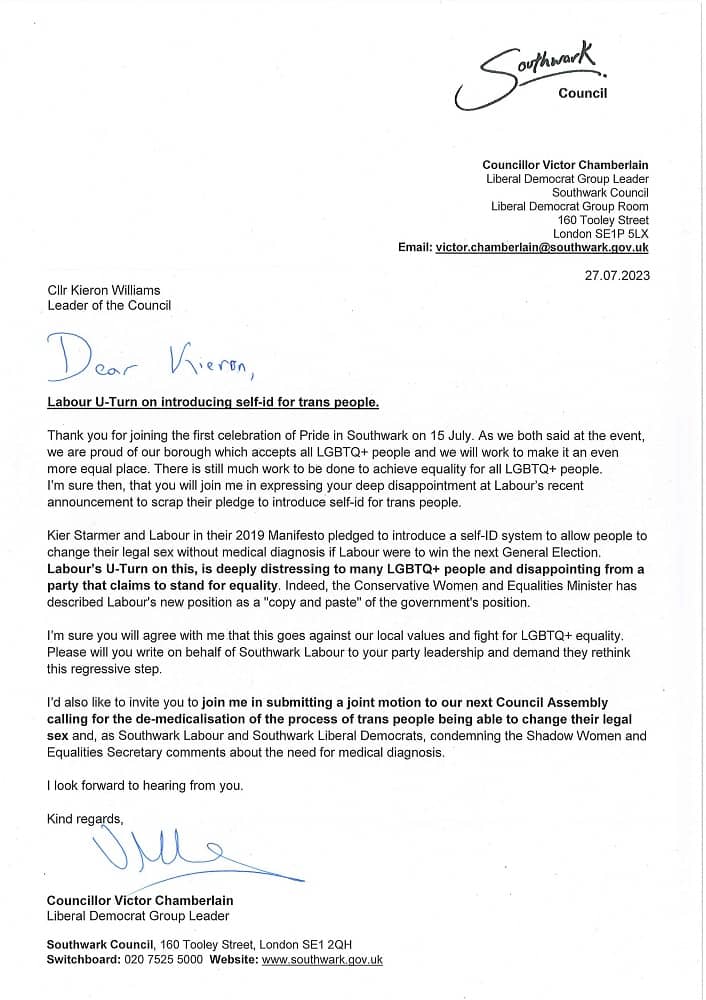 The introduction of self-id would allow trans people to change their legal sex without medical diagnosis.
The Labour Party's 2019 manifesto included a pledge to introduce self-id if they were to win a general election.
However, shadow women and equalities secretary Anneliese Dodds has now stated, in a column for the Guardian, that they have dropped that pledge, stating that medical diagnosis upholds "confidence in the system."
Cllr Victor Chamberlain said, "Labour's latest U-Turn is deeply distressing to many LGBTQ+ people and disappointing from a party that claims to stand for equality.
"Indeed, the Conservative Women and Equalities Minister has described Labour's new position as a 'copy and paste' of the government's position. If Southwark Labour really does support equality and the trans community, they will join me in expressing our deep disappointment in this latest backward step from the Labour Party, who seem determined not to support progressive policies."