Entrepreneur Anthony Eskinazi on creating the most successful campaign in Crowdcube's history
It's the most successful campaign in the history of crowdfunding platform Crowdcube.
Parking app JustPark yesterday hit its £1m funding target less than four days after launching the campaign (which is still open, if you're interested).
JustPark helps drivers find cheap parking spaces near them, and lets property-owners rent out their driveways and parking spaces.
The company was founded by Anthony Eskinazi (who we talk to below) in 2006 as ParkatmyHouse, and rebranded last summer to JustPark.
In the past year, JustPark hit a number of milestones: its 675,000th user, annual booking revenue of £3.7m, and doubling its gross profit year-on-year.
So it's little wonder that it was attractive to retail investors (i.e. individuals like you and me) looking to invest anything from £10 in the business via Crowdcube.
This was always going to be an unusual crowdfunding campaign because of the way it's been structured. JustPark, you see, had already raised institutional funding from BMW i Ventures, the venture capital arm of BMW, and Index Ventures, which has also backed Skype, Dropbox and Just-Eat. Index Ventures' plan is to convert a loan of £500,000 to shares at the same price per share as the crowdfunding campaign prices shares at.
How has JustPark done it? We caught up with founder and chief product officer Anthony Eskinazi, a former national-level chess player and maths grad who taught himself coding and previously worked at Deloitte.
You already had funding from the BMW Group and VC firm Index Ventures. Why did you choose to crowdfund on top of that?
BMW gave us seed investment of a quarter-of-a-million [pounds] in 2011.
We approached Index in 2013. We knew we wanted to undertake crowdfunding, but we also wanted their expertise. It's no secret that VC-backed companies can achieve fantastic things, and Index have achieved a lot of IPOs.
So we did a hybrid campaign. Index gave us a loan, and they are going to convert that loan into equity at the same valuation as the crowd. There's a £20m pre-money valuation [for JustPark]. Index give their £500,000 then they buy it back, and that gives the crowd confidence the value is there. And it's great having their support.
How did you know there was an appetite for the crowdfunding campaign?
We surveyed a random 10% of our customer base in December 2013 to see if they would be interested in crowdfunding. The response was phenomenal. So we did it!
That was more than a year ago – so has this all been a long time in the making?
We got the term sheet from Index in 2014. We knew what path we were on, but there was just lots of legal because of the complexity of deal – this [mix of VC funding, loan and crowdfunding] hadn't been done before. So the whole process did take a while.
Also, we obviously wanted to make sure we grew the company and increased the company value before going to the crowd. If we were diluting the company, we wanted the value to be high. We wanted the numbers to show.
In that time, the business has become almost unrecognisable from what it was back then. We've rebranded from ParkatmyHouse to JustPark, we have a new iPhone app and car app. The team has gone from five to 30. And recruiting the best people is tough too – all that took so long. We had to get the revenue and profit figures [we wanted] so they could be published in the pitch before going to the crowd.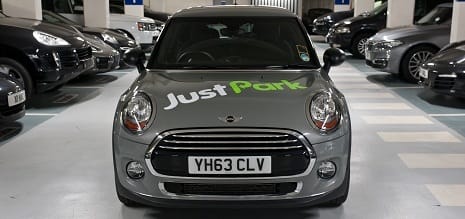 You raised half of your £1m target within just 12 hours! How have you whipped up so much excitement?
In the days before we launched publicly, we launched the campaign privately to our customers.
We sent an email to everyone who showed interest in 2013, saying we're actually going to do this.
Then we sent an email to our most active customers, the people who use our service most regularly, whether renting out or using [parking spaces]. We gave them couple of days' notice.
Then we contacted the rest of our customer base a day before going live to the public.
Of course, Crowdcube has its own investors too, and there was a big marketing campaign promoting this.
Was going to your customers first a successful approach?
We didn't want the whole campaign to get really full without our customers having a chance. They're the ones who can evangelise and shout about us from the rooftops!
And initial figures show that over 800 of our customers have invested already. [Around half of the total crowdfunding investors at time of writing.]
What advice would you give businesses considering crowdfunding?
Definitely it suits some businesses more than others.
It works best if there's a sense of community to the company. Or if you're solving a real problem – not just a problem for your customers but one people can relate to. If people get the problem you're trying to solve then they will jump on it.
You've also got to get your valuation right, and you've got to have the right pitch, with a good video and a strong brand that people can relate to and trust.
But ultimately I suppose that doesn't just apply to crowdfunding, that applies to investing in general.
You've hit your target, but the crowdfunding campaign is still open for investors. What are your plans now?
We wait and see!
The £1m was our minimum target, so we're keeping it open for investors to put money in. We'll wait and see if we raise more, but we also want to get on with things! We won't get money until [the crowdfunding campaign] closes, so we'll keep having conversations with the board about: what does that maximum cap look like? Is it worthwhile closing it and getting on with things?
So watch this space!
If you're interested in investing in JustPark, view its campaign now.