Produced in partnership with Parallels
The popularity of Apple's iPad continues to soar. It has been a great consumption device for surfing the web, email and watching videos and playing games, but what about productivity in the workplace? Has the increased popularity of Bring Your Own Device (BYOD) and evangelism from Mac users enabled Apple's cool quotient to touch our lives at work? Indeed it has. According to Gartner's 2013 Mobile and Wireless Predictions, in 2014 "Apple will be as accepted by enterprise IT as Microsoft is today".
But if you're reading this on a Windows PC, don't worry. You don't need to throw your PC out of the window. In fact, there are new software applications that are blending the worlds of PCs, Macs and iPads together in ways that can positively impact your increasingly mobile life.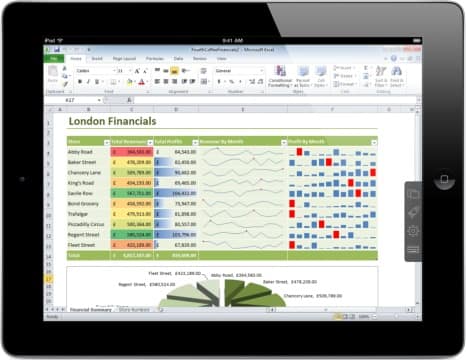 Parallels Access app for iPad lets you access every application on your PC or Mac – including Microsoft Excel pictured above – and use them like they were made for your iPad.
Parallels, maker of the No. 1-selling Parallels Desktop for Mac software for seamlessly running Windows applications on a Mac without rebooting, has a nifty Parallels Access app for iPad that lets you access every application and file on your PC or Mac via your iPad – and use them just like they were made for your iPad.  
Bonus Tip: Download a free trial of Parallels Access from the iTunes App Store to experience the magic of accessing everything on your PC or Mac via your iPad.
How can I run Windows and Mac applications on one computer?
Do you use a Windows PC, a Mac or both? Do you and other employees want to get a Mac but are afraid that you won't be able to run Windows applications you need without a PC? Fear not!
Parallels Desktop for Mac software makes it easy to do everything you need to by running Windows 8, Windows 7, Windows XP, Mac and more – simultaneously on your Mac, without rebooting.  It can even simply move your entire PC onto you Mac, including Windows plus all of your applications and files, so you've got everything you need on one computer. Launch and access Windows applications directly from the Mac Dock or Launchpad and more. You can copy and paste and drag and drop between Mac and Windows. Parallels Desktop also lets you customise the experience so it looks and feels like a Windows PC, or use Coherence mode to make Windows invisible and use Windows applications in your familiar Mac environment with Mac gestures.
Windows 8, Windows 7 and OS X Mavericks are pictured running simultaneously on a MacBook Pro laptop with Parallels Desktop for Mac.
Bonus Tip: Download a free trial of Parallels Desktop for Mac at www.parallels.com/desktop
Good News for IT Departments
Parallels Solutions for Business  enable IT departments to maintain compliance and control while still embracing the technology employees need.  Protect your investment in your Windows-based applications because you can deliver them on Macs, and leverage your existing Microsoft System Center Configuration Manager (SCCM) infrastructure and skills to fully manage Macs and virtual machines.
Parallels Desktop for Mac Enterprise Edition includes a Mass Deployment application that lets IT departments centrally configure and control Parallels Desktop. Pre-configuring virtual machines allows "lights-out" deployment, and saves time because new Macs can be deployed in a matter of minutes instead of hours or days using standard Mac management tools.
Security features include letting IT administrators set an expiration date for virtual machines so that the machines stop functioning at a specific date. This helps in blocking access to corporate information to contractors and temporary workers.
The software comes with a headless mode using which virtual machines can be automatically started without the admin of needing to log in to the computer. To keep computers secure, IT administrators can also change or reset user passwords on virtual machines using the Command Line Interface.
"Microsoft is committed to enabling IT organisations to manage heterogeneous environments, including those that have both PCs and Macs," said Andrew Conway, Senior Director, Product Marketing, Microsoft. "System Center Configuration Manager is designed for extensibility, and the Parallels Mac Management plug-in was built to help expand and enhance System Center's management of Macs in enterprise environments. A single team with one set of tools can use the Parallels plug-in and help decrease redundancies and reduce OPEX costs."
Bonus Tip: Are you trying to get your company's IT department to support Macs? Ask them if they use Microsoft System Center Configuration Manager (SCCM) to manage PCs. If they say yes, then ask them to check out www.parallels.com/pbs for solutions that work with their existing infrastructure so they can simply support the Macs you and your fellow employees want.
 Produced in partnership with Parallels
Now read: