Take a look
Fintech firm Akoni aims to revolutionise how businesses manage their money. Its platform reduces the time it takes organisations to set up a deposit account – from several months to a matter of days.
Using sophisticated data analysis, Akoni gives firms the opportunity to move their cash around quickly and flexibly, and take advantage of the best rates.
The service is currently available only for deposit accounts. However, Akoni has plans to extend it to insurance and foreign exchange (with selected partners), and eventually to a wide range of financial products.
Recruitment challenges
As a fintech player, Akoni competes for talent with banks, especially on the data analytics side of its operation.
This obviously puts the firm at a financial disadvantage. "We just can't match the salaries that the banks pay," says founder and CEO Felicia Meyerowitz Singh.
There are also time constraints on a small team running a growing business.
"We struggle to find the time to look properly at the strategic recruitment decisions, such as whether to offshore teams," Felicia explains.
The start-up advantage
Akoni's head of partnerships joined the firm from a major commercial law practice.
To Felicia, her career change sums up why talent gravitates to entrepreneurial and disruptive players like Akoni.
"With a large corporate employer, you may be one of 20,000 employees around the world. You're a small cog in a big machine.
"But at somewhere like Akoni, you can really have an impact. You can learn fast, break new ground, and position yourself strongly in the talent market."
Getting it right
Akoni can't hold its own with the banks in terms of reward; but the firm still needs to offer salaries that will tempt the required talent.
This means having proper funding in place, which participating in the London & Partners' Business Growth Programme (a free programme for London SMEs designed so that the guidance, skills development and support received is tailored to business growth ambition and potential), is helping Felicia to achieve.
The next step is to find the right people: "Our employees need to be hungry to help us succeed," says Felicia. "And they need to feel comfortable in a fast-moving climate. They must have a 'get-on-with-it' attitude."
But this ambition should be balanced with an element of humility, she stresses.
"In a small team, there's no room for attitude. Everyone must be willing to make sacrifices while the business is in its early stages; and willing to work with their colleagues to get things done."
The benefits
Felicia feels that recruitment is 'make-or-break'.
"Having the right people is life-changing," she enthuses. "As CEO, I don't have to micromanage the business, so I can get on with driving it forward. That's liberating.
"On the flipside, hiring the wrong people can ruin everything. It can poison the culture."
Above all else Felicia has two recommendations for other start-ups on the recruitment front.
First, start early. Start thinking about your recruitment needs long before they become a priority – before you launch the business, even.
Second, build your network. You'll need to draw on it when you start recruiting. Then make sure you leverage it when the time comes.
"That's another way in which the Business Growth Programme has been immensely helpful," she says. "It gives you access to networks you might not otherwise have."
Want to learn how to overcome major recruitment challenges coming in the way of business growth?
Crucial ways to create a solid workforce have been detailed in the Access to Talent report – brought to you by London & Partners, the Mayor of London's promotional agency.
Download the full report here.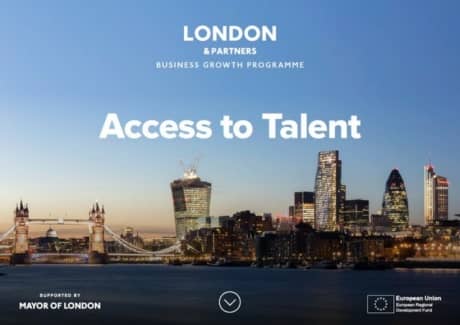 Source: London&Partners