It recently raised £39m and is the most-visited website in its space. CEO Klaus Nyengaard spills the beans
Follow me: @shrutitripathi6 and @LondonLovesBiz
We all have those days when we just can't be bothered to cook and takeaways become the order of the day.
And there are plenty of those days, if the growth of online takeaway business Just-Eat is anything to go by.
First launched in Denmark in 2001, Just-Eat is a takeaway aggregator that lists menus for its users and passes the orders onto the restaurants, who then deliver the food to customers' doorsteps. For this service Just-Eat takes a 11-12% commission.
The company moved its HQ to London in 2008 and has since opened branches in 13 countries including Spain, Italy, Canada, Belgium and India.
Just-Eat has partnered with over 11,000 restaurants in the UK that include brands like Wendy's, McDonald's and Costa and delivers more than 100,000 meals a day. It registered 20 million visits in the five months to February, becaming UK's most popular food and drink website. The company claims to generate over $500m (£312m) in revenue a year for the restaurant industry (presumably meaning through the volume of orders it takes, though it's not difficult to challenge that stat on that basis).
It's got a big appetite for investment too. Back in April it devoured a £39m investment led by private equity group Vitruvian Partners, the company's third round of major investment after receiving £10.5m from Index Ventures in July 2009 and £30m from Greylock Partners, Index Ventures and Redpoint Ventures last year.
So what's the recipe for its success? I caught up with Just-Eat's CEO Klaus Nyengaard to find out:
Q. First of all, why did you decide to move to London?
We were doing pretty well in Denmark but soon realised that 50% of Europe's food delivery industry is based in the UK. So we knew that to tap into that market and scale the company internationally, London's the place to be. Also, the fact that most of our investors are based in the capital was a luring factor.
Q. What's the business model?
Our business model is simple, restaurants sign up with the site and we get a 11-12% commission from them whenever customers place orders using Just-Eat. The model works really well because customers get choice, restaurants get orders and we get our commission.
Q. How do you plan to use the recent £39m investment?
Expansion, expansion, expansion. We'll use the money to increase our current footprint of 13 countries, and to hire the right talent to grow the company. We'll also use the money to acquire other businesses with a two-prong strategy, i.e. buying out small companies in existing markets and acquiring good companies in new markets.
We'll also spend some of the investment in technology to make the website more user-friendly. For example, we installed a technology called JustConnect which allows restaurants to receive and confirm orders while keeping the phone line completely free. The box runs on electricity and it doesn't even need an internet connection.
Q. Just-Eat's got three huge investment injections since its launch, what makes it so attractive to investors?
What makes investors put their money into Just-Eat is the fact that it's a highly scalable business. There is always room for opening a branch in another country or acquiring a similar business which increases revenue and makes the business profitable.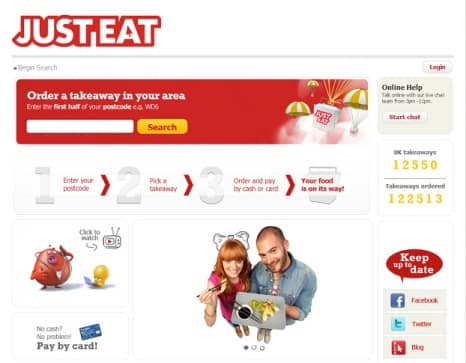 Q. But considering the business is doing so well, don't you have people copying the website?
We see copycat websites popping up every now and then because an online takeaway website is not a very expensive business to open. However, it's very complicated to grow and scale. How will these new websites get cash flow? How will they put the technology in place? I was talking to Rightmove's CEO Ed Williams the other day and he made an interesting point on explain competition: "Online businesses have low barriers to entry but high barriers to growth."
Also, we weren't pioneers in the takeaway business so we didn't really enjoy a first-mover advantage. But what really differentiates us from any competitor is how we read and forecast potential markets, I think no one does it better than us.
Q. Your current portfolio is 13 countries strong but why haven't you launched in the US yet?
We didn't want to look to the US simply because it's a very big market and entering it would have been a major distraction. I think now's the time to really consolidate our existing portfolio and look at markets that are closer to home.
Q. What are the biggest challenges the business faced?
I think it took us really long to understand why investment in technology is at the heart of business growth. So, that's why we now invest heavily in new technologies. Also, in the beginning we struggled with hiring the right person for the right job.
Q. What's your marketing strategy like?
From TV ads to mobile apps, we do a range of marketing activities, but I think word-of-mouth promotion has been the most effective for Just-Eat. Restaurants which have seen a surge in business, and consumers who've found it useful have really helped spread the word.
Q. Finally, what do you think London needs to encourage business and trade?
London might not boast of a Facebook and Google, yet but I don't think we give the capital's success stories its due. We might not have a Silicon Valley but we definitely have some great entrepreneurs heading great businesses. So, I think we should make noise about our achievements because there's no better place than London to do business.
Just-Eat timeline
2001 – Launch in Denmark
2006 – Starts acquisition of Eat Student, Urbanbite and Fill my belly – all UK companies
2007 – Opens branch in Netherlands
2008 – Moves HQ to London and Klaus Nyengaard becomes CEO
2008 – Opens branch in Ireland
2009 – Opens branch in Belgium
2009 – Opens branch in Canada
2009 – $16.5m funding round 1, Index Ventures and existing shareholders
2010 – Opens branch in Norway
2010 – Opens branch in Spain
2010 – Acquires 100% of Eat Student
2011 – Enters India with a majority stake in Hungry Zone
2011 – Enters Switzerland with majority shareholding in Swiss online takeaway company Eat
2011 – Enters Italy with acquisition of ClickEat
2011 – Enters Brazil with acquisition of RestauranteWeb
2011 – Acquires Grub Canada/Yummy Web in Canada
2011 – $48m funding round 2, Index Ventures, Greylock Partners and Redpoint Ventures
2011 – Acquires 100% of Urbanbite
2012 – Acq
uires 100% of Fill My Belly
2012 – Enters France with a partnership with Alloresto
2012 – $64m funding round 3, Vitruvian Partners