David Cameron has just announced a raft of new immigration rules in the hope that the UK will become less attractive to immigrants, both legal and illegal.
That's in large part because the government is failing its own net migration targets.
The Conservatives are aiming for below 100,000 in annual net migration (immigration minus emigration) by the next election. Currently, net migration stands at more than 200,000 a year.
So how has migration changed over the last few decades, and in recent years?
These two charts, from the Office for National Statistics, show how increasing internationalism and improved international transport have seen UK migration increase.
It's worth taking a closer look at the last few years, too, to see how immigration has changed during the term of the current coalition government compared with the Labour government that preceded it (1997-2010).
Nb. The final four crosses in the charts below are provisional figures, and are for successive quarters in 2013.
International migration in the UK (estimates), 1970 to 2013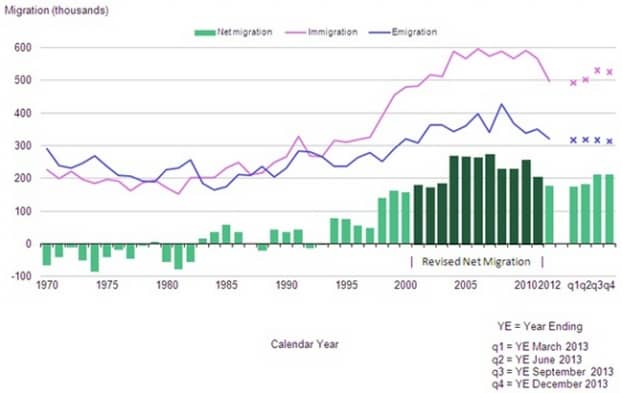 Source: ONS
EU citizen migration in the UK, 1975 – 2013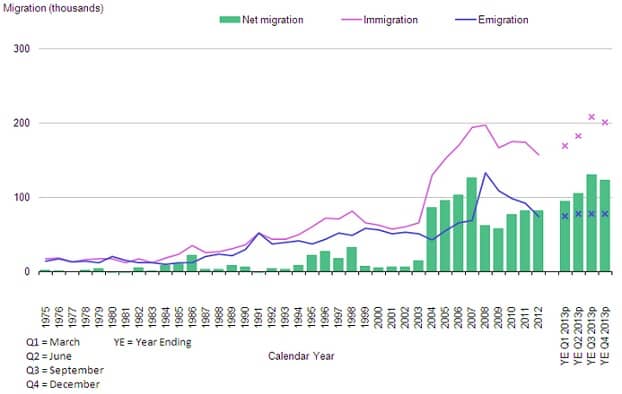 Source: ONS