It's been a 2021 to remember for retail investing already, despite the year only being halfway through. One of the biggest moments in the history of the investment landscape came in late January when social media transformed the fortunes of GameStop. Shares in the ailing brick-and-mortar video games company rocketed from just a few dollars to over $480 on January 28th, thanks to a motley crew of retail investors who coordinated themselves on Reddit. 
GameStop, which carried a valuation of $200m in 2020, briefly rose to $30 billion before experiencing a price correction. 
Why was the short squeeze of GameStop a significant moment? Because it highlighted a fundamental change in the financial markets. In leveraging a fast paced meme-fuelled rally, we've been offered a glimpse into how the rise of frictionless trading has sent investing social.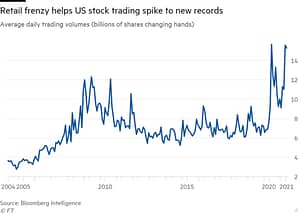 (Image: Financial Times)
As the chart above shows, trading volume has risen to unprecedented levels over the course of the past year, with over 14 billion shares changing hands on a daily basis. 
This heavy level of volume has paved the way for an investment landscape that's increasingly influenced by retail investors, rather than their institutional counterparts. However, these developments have paved the way for a power struggle between hedge funds and the platforms that are enabling the increased prevalence of retail investors. 
Despite evidence of friction in the marketplace, 2021 looks set to be a landmark year for retail investing, and despite evidence of turbulence ahead, let's take a closer look at why there's plenty of cause for optimism within the world of retail: 
Ruffled feathers among hedge funds
Despite investment apps like Robinhood paving the way for more seamless retail investment opportunities, leading figures on Wall Street, like Berkshire Hathaway vice chairman Charlie Munger, have been vocally critical of the rise of commission-free trading – and the bubble they perceive it to be causing. 
"It's most egregious in the momentum trading by novice investors lured in by new types of brokerage operation like Robinhood and I think all of this activity is regrettable," claimed Munger in the wake of the GameStop short squeeze at an annual shareholders meeting in Los Angeles. 
Munger believes that retail investors are being largely enticed to apps offering free trading whilst gamifying the investment process. Apps like Robinhood make their money through 'payment order flow' as a means of making profits without the necessity of commissions. This means that the companies make their payments from market makers like Virtu and Citadel Securities for routing trades to them. 
Robinhood's Jacqueline Ortiz Ramsay issued a scathing response to the criticism the app's been receiving from Wall Street elites. "The old guard of investing is at it again," Ramsay retorted in a blog post. "If the last year has taught us anything, it is that people are tired of the Warren Buffetts and Charlie Mungers of the world acting like they are the only oracles of investing. At Robinhood, we're not going to sit back while they disparage everyday people for taking control of their financial lives."
New arrivals drive market optimism
New investors in the market have aided optimism at a time of global financial difficulty for stock markets far and wide. 
For instance, the UK entered a recession in August 2020, but the FTSE 100 actually increased by 17% between April 2020 and April 2021. 
Although there are many political and environmental influences that are driving the revival of markets around the world, there is also an unprecedented level of volume in terms of money traded and money invested by new arrivals on the marketplace. 
Maxim Manturov, head of investment research for Freedom Finance Europe, believes that the pandemic and stimulation arrangements that subsequently followed were a key factor in thriving despite challenging market conditions. 
"What we have analysed above actually looks like the consequence of the pandemic and the stimulation packages that followed," Manturov notes. "This created a pool of funds retail investors could start investing into stocks. As per Fidelity report, there were 26M retail accounts in 2020, i.e. up 17% compared to 2019, while the daily trading volume doubled. People in the US traded about 90% more stocks than the week before they received their stimulation funds."
More ways to invest than ever before
The investment landscape in 2021 and beyond will invariably be shaped by apps like Robinhood. Although commission-free trading platforms have rarely strayed from controversy in recent months, they've played a vital role in making the benefits that institutional investors enjoy more available to retail users. 
Recently, Robinhood announced that it's opening up a new platform that allows customers to buy shares of companies at the initial public offering price before they come to market. 
The feature, called IPO Access, represents an important step towards democratising finance in a way that can be appreciated by all investors. While most IPO shares are only available to institutional investors, or those with deeper pockets, this platform represents one of the only avenues for investors to buy into IPOs without any requirement of a minimum account balance. 
The news comes ahead of the launch of Robinhood's own IPO, which will see the company make its shares available to retail investors ahead of its Wall Street flotation. 
The COVID-19 pandemic may have been significantly damaging to economies around the world, but it appears to have come at a time where technology is making it increasingly straightforward to invest in companies. 
This, along with the free time made available through the implementation of lockdowns, the money saved through work from home initiatives, and the prevalence of social media, has leveraged a perfect storm of well resourced individuals who have been able to dip their toes into the world of investing for the first time. 
The short squeeze of GameStop was an early indicator of what coordinated retail investors can do. 2021 will pave the way for more intelligent investment insights and better accessibility than ever before. As the pandemic comes to an end and businesses begin to adapt to the era of the 'new normal,' it's likely that we'll see more optimistic investment patterns from this new generation of users – paving the way for a bright future across the world of stocks and shares. 
The above information does not constitute any form of advice or recommendation by London Loves Business and is not intended to be relied upon by users in making (or refraining from making) any investment decisions. Appropriate independent advice should be obtained before making any such decision.