In business, there's nothing more important than your customers. When it comes to growing your brand, the focus should always be on gaining more customers while retaining your existing ones. With this in mind, offering customers an excellent experience has become a priority for many companies. Despite this focus, a good number of companies still fail to deliver a quality customer experience.
That's because many businesses tend to confuse a good customer experience with good customer service. With the changing business world, a quality customer experience should not be the only focal point of a customer-business relationship. Rising customer expectations now demand an improvement in their experience overall to ensure retention.
Here are four ways to improve the customer experience within your brand.
Capture and address customer feedback in real time
The only way to tell whether you are providing a fantastic customer experience is by asking, and capturing customer feedback immediately is a great way to do that. The information you get is of prime importance when charting your brand's next course of action. Addressing issues right away ensures that the company doesn't stray too far from what the consumer wants.
How you capture customer feedback helps determine your ROI dynamics. Using a digital platform allows the company to get feedback conveniently and quickly. NPS software and other solutions will enable you to capture and analyze customer feedback, providing an opportunity to address any issues and optimize the customer's experience.
Know and understand your customers
Knowing your customer's needs and understanding them is crucial to provide them with the best customer experience. Work to build a connection with your customers outside of your business relationship to improve customer retention and loyalty. This kind of relationship creates an emotional attachment, which enhances their overall experience.
If you want to know exactly what your customers need, you have to connect with the circumstances that your customers face. A quality customer feedback platform is a great way of acquiring such information by building digital personas for different customers. These profiles will help your organization build a rapport with and understand your customers more effectively.
Go beyond typical business hours
Many businesses only operate between 9 a.m. and 5 p.m. Working outside of these hours to provide your customers with amazing experiences, even when you are outside the office, will make your brand stand out. With a digital space that allows different levels of remote working, customers can enjoy the organization's services without the confines of standard working hours.
If not properly planned, working outside of normal business hours may increase salary costs and other business expenses. Thanks to technology, your existing employees can develop a shift program that allows them to work for a few hours outside the normal working hours for a fair stipend. If executed well, the improved customer experience will generate huge returns.
Train your employees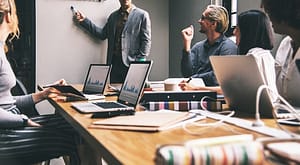 After identifying your customers' needs, your company needs to use that information to conduct optimal customer experience-related training for employees. Most of your clients will interact with numerous people at different stages as they seek services. So, training your employees on how to interact with customers is crucial for consistency and reliability.
An important step when training employees is in identifying their individual training needs. Those with similar learning styles may be grouped together during training, for example. Such a framework optimizes the training results and makes it a worthwhile investment. Their progress can be tracked using online learning platforms that allow for employee feedback, a crucial part of the training process.
Optimise your customer retention score
When developing a great customer experience program for your company, it is vital to put the customer's complete interaction with your employees and services into consideration. The interactions from point-to-point are key determinants of the client's overall experience. Solving any issues in real-time is key in eliminating friction and improving customer retention.