Whilst uncertainty still surrounds Brexit, now is the time to investigate and consider new markets which will provide the UK with significant opportunities. One of these is the newly energised and wealthy Kingdom of Saudi Arabia. Saudi's appreciate the British and the way we do business. We have a long-standing relationship that we should be capitalising on at this time and there has never been a better time to consider this exciting market.
Saudi Arabia may not be the first country that springs to mind, however this rapidly diversifying country is currently embracing Vision 2030, a government plan to diversify the economy from its reliance on oil. The reforms Vision 2030 is bringing, is resulting in a country that offers excellent opportunities to UK Plc in all sectors.  It is a wealthy country and under its new, energetic and dynamic leadership of Crown Prince Muhammad bin Salman, it is forging ahead with a progressive agenda which entails spending vast sums of money across virtually every sector.
If the thought of trying to enter the Kingdom of Saudi Arabia seems daunting, or if you already have a presence but want to increase your market share, then you should seriously consider attending the 'Opportunity Arabia – Oil and Beyond Conference' on the afternoon of 19th September, to be held at The Grocers' Hall, Princes Street, London.
The conference will provide attendees with a valuable insight into how to succeed within the Saudi market and avoid the potential pitfalls.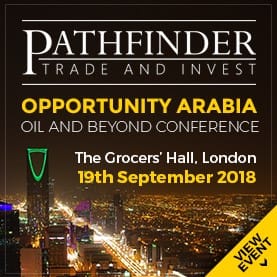 Chaired by Former British Ambassador to Saudi Arabia, Sir Alan Munro, there will be keynote speakers including Baroness Symons of Vernham Dean – Member of the House of Lords and Co-chair of the Saudi British Joint Business Council, Oliver Cornock, Editor in Chief, Oxford Business Group, and regular guest on BBC News 'The Briefing' and Stuart D'Souza, CEO of AEI Saudi, based in Riyadh.
In addition, panels and case studies covering both the established and 'new' opportunities available will include such topics as:
Smart Cities
The developing role of Women
Technology
Energy
Training/Education
Infrastructure
Entertainment
Sport
Delegates will also be able to meet the experts and connect with the Kingdom by way of a panel discussion, Q&A's and a networking event.
The conference is being organised by Pathfinder Trade and Invest who have been arranging overseas Trade Missions and UK conferences, summits and briefings since 2011. Pathfinder Trade and Invest feel strongly about the opportunities Saudi Arabia has to offer and are delighted to extend to readers of London Loves Business receive a 10% discount on the delegate fee – please enter the promotional code LLB18 at check-out.
To further help interested parties establish business relationships within Saudi Arabia, and to explore first-hand the business opportunities available in the Kingdom, Pathfinder Trade and Invest are also organising a Trade Mission to Saudi Arabia to take place from 25th to 29th November 2018.