London manufacturing is alive and thriving, and our report – the first of its kind – proves it
Did you know Brompton Bikes are made in London? Have you discovered the Teddington wind turbine manufacturer yet? Or the Greenwich brewery making serious bubbles in the ale ecosphere?
The London Top 20 Mid-Sized Manufacturers is the first ever report of its kind. With help from the Manufacturing Advisory Service, the EEF and other industry bodies, and produced in association with Lloyds TSB Commercial, it celebrates and profiles London's greatest manufacturers, with turnover up to £20m, through first-hand interviews and their business stories.
Click the image below to download the report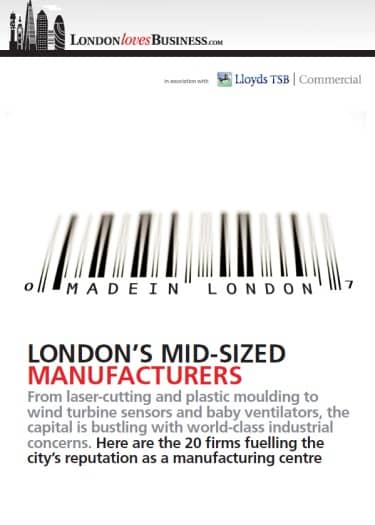 Do you believe London's manufacturing sector is alive and kicking? Leave your comments below to let us know
Related Files
London's Top 20 Mid-Sized Manufacturers