An e-petition on parliaments website calling on the government not to suspend parliament has gathered more than a million signatures.
With just a few hours more than 100,000 people signed the e-petition and with seven hours it reached 500,000 signatures, and by midnight a million people signed the petition.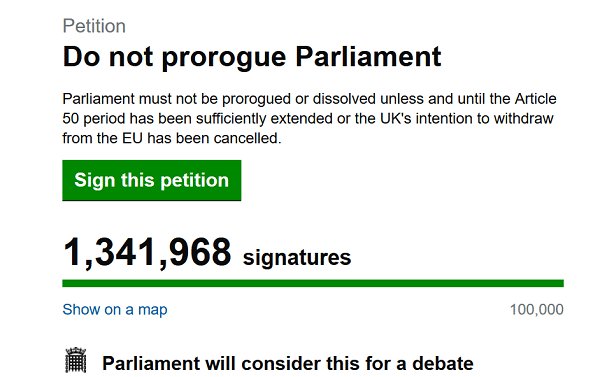 On Wednesday the Queen approved the order to prorogue parliament no earlier than 9 September and no later than 12 September until 14 October.
Jacob Rees-Mogg the Commons leader said the protests are "phoney" and said the move is not intended to limit MPs time to debate Brexit.
He said, "I think the outrage is phoney and it is created by people who don't want us to leave the European Union and are trying very hard to overturn the referendum result and don't want the benefits of leaving the European Union.
"Parliament wasn't going to be sitting for most of this time anyway. This is completely constitutional and proper."