Some of the world's biggest brands are dispelling the high street gloom by choosing the capital for their biggest stores
Several of the top retailers around the globe are heading for London to open their flagship stores. So why, despite the retail shortfall, does London attract the biggest and best?
Peter Mace, head of central London retail at Cushman & Wakefield, said: "The future of London's retail market looks very bright and there will be no let-up in the strong demand for representation especially from international retailers as we lead up towards the Olympics.
The strength of the pound, interest rates, taxation and the availability of capital will all play their part but there is no escaping the fact that London is one of the best and most diverse shopping locations in the world and that is likely to remain the case for the foreseeable future," he added.
Here are five brands that chose London to set up their biggest stores.
1. Burberry – to open in 2012
The Burberry brigade in London is spreading like wildfire. The fashion giant recently opened the first Burberry Brit shop in Covent Garden but that wasn't enough. It is doubling the size of its Knightsbridge store next to swanky One Hyde Park.
It has also allocated a further £20m to build its biggest flagship store in the UK on Regent Street, acquiring the neighbouring Habitat and LK Bennett shops and knocking their walls down to make one huge Burberry block.
And of course! Burberry hosted the first ever twitter catwalk show – nowhere else but in London.
2. Tommy Hilfiger – to open on November 24, 2011
Tommy Hilfiger's biggest flagship store in the UK will be in London next to Harrods, Mulberry and Burberry on Brompton Road.
A prep-aficionado, Tommy thinks there is no better place than London to showcase his fashion forte.  
"Since starting my brand in 1985, prep has been my main inspiration, and as the birthplace of preppy style, England is very close to my heart. London, rich in culture, history and art, is the perfect location for us to anchor our largest UK flagship store, and offer our customers the complete classic American cool Tommy Hilfiger lifestyle", he said.
3. McDonald's – to open in 2012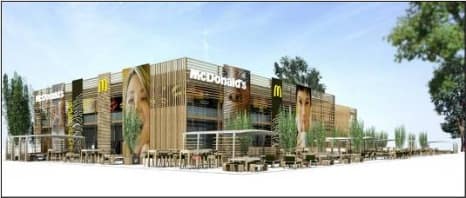 If you want to imagine the enormity of this McDonald's outlet then think of 50,000 Big Macs, 100,000 portions of fries and 30,000 milkshakes because this is what McDonald's biggest ever outlet will serve during the London Olympics in 2012. To be opened in Stratford close to the Olympic stadium, this two-storey outlet will be 30,000 square feet with 1,500 seats. During the games, it will be the busiest of all the 30,000 company's outlets in the world and will be served by 500 staff.
4. Disney – opened in May, 2011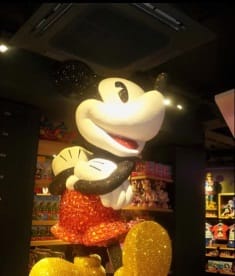 If you think London's retail scene is only about fashion labels, have a look at Disney's den on Oxford Street.
With a 28-foot high castle, princess magic mirror, theatre and cartoons on the wall, this is London's very own Disneyland. The huge 8,200 square-foot store opened in May and is twice as large as the previous Oxford Street store. It took two years to plan and construct.  
With toys all around, children will find that a visit to Disney will be like finding wonderland.
5. Apple – opened in 2010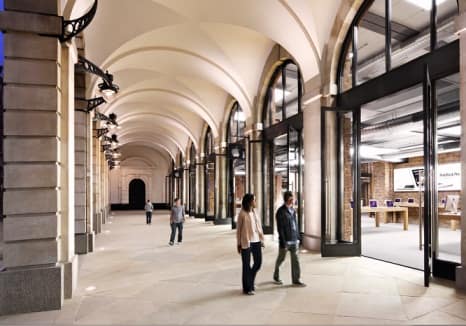 It was destination London again when Apple decided to open its biggest store in the world. Opened last year, this 300th Apple store stocks more iPhones and iPads than any other place in the world. So if you're looking for that white iPhone 4S, you know where to find it.