The amazing tech stories behind the game and statistics at the world's favourite tennis tournament
It's that glorious time of year again when strawberries meet cream, Djokovic meets Nadal (we hope), and cutting-edge technology meets the world of tennis. That's right, technology. Because there is some pretty incredible stuff going on behind your up-to-date insight into serve speeds approaching 150mph, all the latest line calls on your smartphone, and the statistics behind more than 99,000 points collected over the course of the Wimbledon Championships.
Welcome to most ace (sorry) technologies in tennis.
IBM SlamTracker
One of the keys to the coach-player relationship in tennis is understanding any given opponent's weaknesses. It requires hours, if not days, of watching old matches with eagle eyes, trying to discern the flaws in the opponent's game that are imperceptible to the untrained eye. So what if you had a computer that could do all that for you?
This was, in part, the thinking behind the newest version of SlamTracker, the uber data cruncher which analyses and visualises player data for each point played. In 2011, its makers, IBM, added a feature called 'Keys to the Match'. This trawls more than seven years' worth of player data – some 39 million data points – to find patterns in the match technique of winning players. 'Keys to the Match' can then use this insight to pit players against one another ahead of a match and reveal which three crucial elements of the game each player must excel in to be more likely beat the other (service speed, backhand, volleys and so on).
As well as all that, SlamTracker is the technology we have to thank for keeping us up to date with each point's statistics in real time – it crunches and visualises all point data, such as number of shots played per rally, which direction a shot has been played in, and so on, throughout every game of tennis at Wimbledon.
SecondSight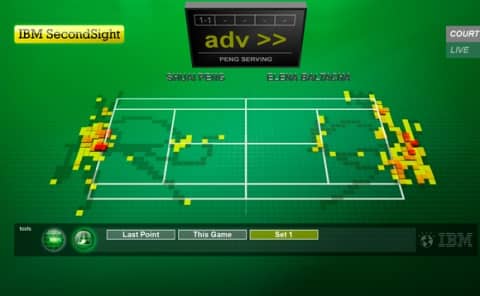 SecondSight is the newest super-technology to hit the Wimbledon tennis courts. It measures players' stamina and tactics throughout the match, tracking their movement digitally to work out exactly how fast they move and how far they run throughout each game. As a result it can measure how their performance changes throughout the match. It was trialled on Court 18 last year and this year premieres at Centre Court, bringing the data to life through 3D visualisations and onscreen overlays.
It'll be an invaluable addition to players' and coaches' analytical arsenal – not to mention providing a juicy extra dimension of player stats for fans to chew on in the Dog and Fox. "The 'physicality' of the game is the one area where we have lacked empirical data before ," explains Alan Flack, Wimbledon programme executive at IBM, which created the technology and is Official IT Supplier of the Wimbledon Championships. "This will  help plug a big gap in our statistical data, and provide  fans, coaches, players  and officials with more data to help get get even deeper insights into the game and player performance. "
Hawk-Eye
Hawk-Eye has transformed the officiating of cricket and tennis – it's the technology that shows you precisely where the ball bounced, indicating whether it was in or out.  At Wimbledon, players can challenge a judge twice per set (and once again for tiebreak) over a line call, and Hawk-Eye is used to double-check the call.
Hawk-Eye was developed in 1999 by Hawk-Eye Innovations and has also been used in snooker broadcast coverage. It uses several cameras to follow the ball then triangulates to work out the ball's location. The next big break for it could be in football, though fans and officials are split over whether to adopt the technology or not.
Wimbledon.com and the cloud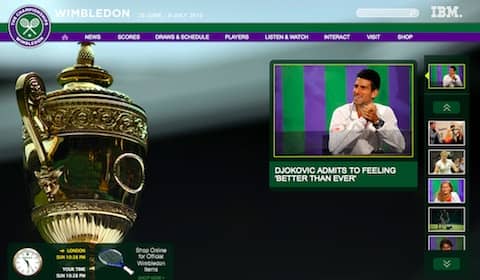 Wimbledon.com got a whopping 450 million page views last year – and this year it could reach half a billion (it's also had a very eye-catching make-over for 2012 that's sure to excite fans). That's a colossal amount of web traffic to field. To make things just that bit more challenging to manage, Wimbledon.com has to fight off between 40,000 and 80,000 attacks from hackers, spyware, malware and bots every day.
But the pickle is that for the 50 weeks of the year that the Wimbledon Championships aren't happening, the All England Lawn Tennis and Croquet Club doesn't receive quite as much attention. As Flack puts it: "As a medium-sized business  you can't afford to have numerous  servers across multiple data centres just for the two week s of year the site is busy." That's where IBM comes in as sponsor. It hosts Wimbledon.com on its private cloud. "The key thing is that this provides the club with a very secure, scalable and very robust way of hosting an enormous website.
"They never have to worry about how many users they've got at any point – the cloud deals with it for them." The IBM cloud also hosts the websites for the other grand slams, and the golf tournaments IBM sponsors as well as ibm.com.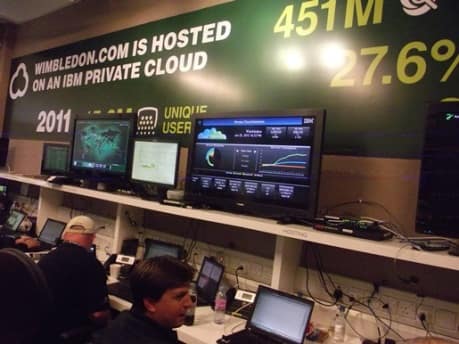 Radar gun
Serving speeds – rather terrifying, aren't they? But tantalising nonetheless. And we've got the radar gun to thank for knowing exactly what they are during every match. This handy little gizmo features on six Wimbledon courts – including, of course, Centre Court and Court One.
If you fancy yourself as a bit of an ace demon, you can buy your own radar gun. It might not be quite as accurate as the one at Wimbledon, but, heck, it's a great little gadget to aid your showing off, if you happen to like getting competitive over a glass of Pimms.
The Wimbledon app
Wimbledon fans can get all the action in the palm of their hands with the tennis tournament's rather snazzy app. This year for the first time ever it'll feature live video streaming from key matches (limited to five minutes per match). It also gives you live commentary, all the scores in real time, photos, Radio Wimbledon, the schedule, and on-demand video of play. It's available on iPhone  and Android. 
You might also like…
How IBM creates the science of tennis at Wimbledon