Traditional finance has boundary issues. Let's say that you're wanting to transfer funds from France to Uganda – the act of converting Euros to Dollars and wiring it across the Atlantic is liable to incur a series of cross border fees and face the task of hurdling issues with friction along the way. However, blockchain-based cryptocurrency transactions may soon revolutionize this process.
With this in mind, let's explore the potential that crypto holds in leveraging banking across borders:
Improving payments through blockchain
Although the prospect of cryptocurrencies completely replacing their fiat counterparts is a long way from becoming a reality at this stage, recent years have seen a significant level of growth in transaction volume for the likes of Bitcoin and Ethereum. Notably, Ethereum's network became the first to settle $1 trillion in transactions across the 2020 calendar year.
Developing economies like that of Kenya, Nigeria and Uganda have seen companies adopt blockchain payments as a way of modernizing B2B transactions. Through the use of BitPesa, millions of dollars in transactions have been processed across sub-Saharan Africa, with a reported 20% rate of growth per month.
BitPesa is also often used for remittances throughout the continent. As the most expensive region in the world for sending money, crypto-based platforms like BitPesa have helped to bring a reduction of over 90% in transaction fees in the area.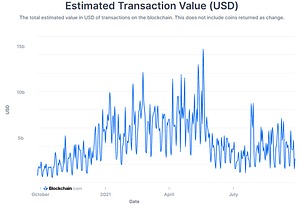 (Image: Blockchain.com)
Could Africa's blockchain-based cross-border solutions act as a blueprint for the rest of the world? As the chart above shows, blockchain transaction values briefly rose to $15 billion in mid-2021 before harsh pullbacks across the ecosystem caused a retrace to occur.
With use cases continually cropping up, around the world, evidence is mounting that the future of finance is not only digital but also borderless.
Crypto and borderless transactions
Digital currency accounts like CoinJar may ultimately play a central role in the future of crypto borderless transactions. The platform offers an interface for users to access their currency accounts and wealth, as well as enable users to exchange fiat currency into cryptocurrencies.
For the development of 'borderless' payments and its broader potential to become a reality, it's vital that existing barriers are broken down in the financial services industry – particularly around traditional merchants. However, we're seeing plenty of use cases emerging around the world that may pave the way for a more frictionless future.
As an early insight into what borderless transactions look like, we can see the money transfer mechanism that Spanish bank Santander's blockchain-based One Pay FX as a key example. Built on Ripple's xCurrent blockchain network, the platform enables the transfer of one currency to another across a range of countries including the United Kingdom, Brazil and Poland.
The process works through Ripple's xCurrent technology sending messages between the banks involved in a transaction. The message carries the required data to set the transaction up.
When the message is transferred between institutions, a pre-transaction process begins. This includes the verification checks needed to give the transaction the green light – followed by the transfer of the funds itself.
Speaking on the technology, Ed Metzger, head of innovation at Santander said: "As an industry, we recognize international payments is not the smoothest. Users of this technology are able to mitigate those pain points."
With transactions occurring entirely on a distributed ledger system, all details relating to the transaction can be verified across multiple banks. Furthermore, customers can see the cost of the transaction and the money that will arrive through insights provided by the app.
The development of blockchain technology also opens the door for emerging fintech companies to deliver more comprehensive levels of service. For instance, we can look at firms like Connectum, which specializes in multi-currency processing and one-click card-to-card borderless transactions and see the potential for incorporating this technology with blockchain services like that encompassed within One Pay FX for more comprehensive transaction solutions in the future.
The lure of borderless transactions for central banks
The future of blockchain-based cross-border transactions has gained interest from the Bank for International Settlements, which has enlisted the help of central banks in Malaysia, Singapore, South Africa and Australia to test the use of central bank digital currencies (CBDCs) for international settlements.
Nicknamed Project Dunbar, the initiative intends to create an operational prototype of shared platforms for cross-border transactions using multiple CBDCs – which, if successful, can eliminate the need for middlemen and instances of friction.
"Project Dunbar's work on using multi-CBDC platforms to facilitate seamless multi-currency fund transfers is a significant contribution to the global vision to make payments cheaper and faster," said Sopnendu Mohanty, chief fintech officer at Monetary Authority of Singapore. "The findings on how a common platform can be governed effectively and managed efficiently will shape the blueprint of the next generation payment systems."
Facilitating cross-border payments has historically been a complex and costly process for individuals and businesses alike. Now, as blockchain technology continues to make its presence felt across the world of both decentralized and centralized financial institutions, it seems clear that it will play a significant role in leveraging a borderless future – helping to pave the way for a future of seamless transactions internationally.