This is what happened
Shocking dashcam footage shows two men running out of a van up to a car with hammers and smashing the windscreen 10 times.
The victim works for his family company DG Sound Ltd based in east London. He loaded up his van and went to the shops and was gone 25 minutes. As he returned he saw two men unloading his audio equipment from his van.
The thieves, who can be clearly identified from his car cam, had stolen, three months ago, £10,000 worth of top of the range audio equipment from the victim before speeding off.
Friday 10 May the company suffered yet another robbery, this time the company had £7,000 of audio equipment stolen.
In the first robbery, the victim chased the thieves for five miles in his car through east London. He said that he was on the phone to the police throughout the chase.
Please help us find this 2 violent thief's that stole from us loads of speakers @MPSHackney haven't got good description of them £500 Reward pic.twitter.com/KGNrORQM6K

— DG Sound (@DG_S0UND_REAL) May 9, 2017
The victim, who wants to remain anonymous, told LondonLovesBusiness: "I do not think that the police are taking this seriously, which is why I have tweeted the video and pictures."
Please help us find this 2 violent thief that stole from us loads of speakers @MPSHackney haven't not got good description £500 reward pic.twitter.com/rO5v3GtCQl

— DG Sound (@DG_S0UND_REAL) May 9, 2017
"They [thiefs] know what they're doing and they have planned this. They are very clever and they have been tracking me."
The victim's company is offering a "£1,000 reward to the person who finds the robbers."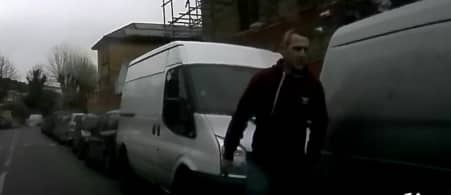 Source: @DG_SOUND_REAL
Recalling the incident, he said: "I had an event so I picked up quite a few things from the warehouse, speakers, and went shopping for about 25 minutes."
"As I was driving back, it was about 10am I saw two of my speaker stands leaning on my van."
"I thought to myself that's not usual, this is not supposed to be there as I know they were locked in the van."
"I saw another van parked in the spot where I wanted to park my car. As I reversed I saw the same two people from the previous robbery jumping into a van very quickly. I realised that I had been robbed again."
"I then gave chase in my car."
"They were driving crazy and they did not care as there were cars and people were crossing the roads."
"I was following them down a road and then they were blocked in by another car."
"I saw two men get out of their van and run at me with hammers and started smashing my windscreen so that I wouldn't be able to see them anymore to stop me from driving."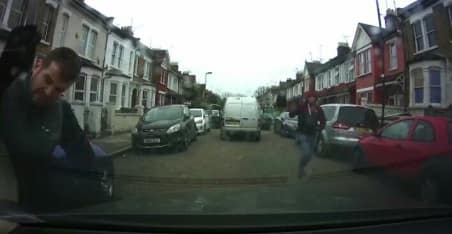 Source: @DG_SOUND_REAL
"I was afraid and thought they wanted to hurt me."
A Met Police spokesman said: "Police were called at Friday, March 10 at around 10.30am to Lordship Road to reports of a theft from a motor vehicle."
"The victim disturbed the theft as it was in progress and pursued the suspects in his vehicle."
"At Vartry Road the pursuit ended. The vehicles stopped and the suspects got out of their vehicle – a white Ford Transit van – and damaged the windscreen of the victim's car before leaving the scene."
"A number of items of electronic equipment was stolen."
"The suspects are both described as being white men, aged 30-35, and around 6ft tall."
"There have been no arrests and enquiries continue."