Duffle coats and doing good – Frances Dickens on why businesses are backing the bear
Frances Dickens is CEO and co-founder of Astus Group
"It's nice having a bear about the house," Michael Bond wrote in his 1958 children's book classic, A Bear Called Paddington. Almost 60 years later, Bond's sentiment lives on, with even the digital-savvy generation posting Pinterest boards in dedication to the humble bear.
This month, the capital has fallen under the spell of the literary legend. Fifty spruced-up Paddington Bear statues, designed by the likes of Emma Watson, Benedict Cumberbatch and Boris Johnson, have taken up camp at iconic locations around London in The Paddington Trail.
It's a new initiative by the NSPCC, VisitLondon.com and StudioCanal to mark the release of Paddington the movie, released on November 28, to raise money for the NSPCC and its ChildLine service. The one-off statues will be auctioned later this year in an attempt to raise a whopping £500,000 for charity.
Those of us familiar with the books will know that Paddington was discovered at Paddington Station by the Brown family and immediately welcomed into their home. It seemed only fair that these new statues should receive a similar reception – and London's businesses have stepped up to the plate, each donating to the NSPCC to adopt one of the little critters.
While nostalgia has probably played a part in businesses supporting The Paddington Trail, it's unlikely, even in the name of charity, for businesses to go heart over mind. When my company, Astus UK, decided to adopt esteemed fashion designer Matthew Williamson's extremely hip creation, Thread Bear, one of the key questions we asked was what Paddington really meant to the company and to London as a whole.
What we discovered is that the key values the Paddington brand represents are really worth holding on to.
First off, Paddington is known for his kindness and good manners. These values make him a perfect mascot and role model for London, which hosts millions of visitors each year with what I hope is kindness and good manners. It also makes him a worthwhile candidate for companies such as ours to sponsor – so much less risky than sponsoring real-life celebrities!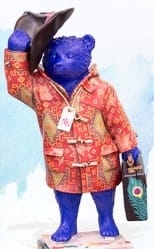 Secondly, when it comes to his personal style, Paddington manages to celebrate iconic, retro British fashion in the form of the duffle coat and wellington boots – the former brought bang up-to-date by Matthew Williamson's superb design. Expect these items to make a comeback on a catwalk near you.
Thirdly, Paddington, an adventurous bear from "darkest Peru", embraces London with open paws as much as the Brown family welcomes him in. The Paddington Trail celebrates the millions of visitors to London – who make a key contribution to our capital's economy – and highlights the city's status as a capital of culture with a rich tradition of creativity, innovation and ceremony.
This year's breath-taking art installation at the Tower of London, commemorating the centenary of the First World War, is a good example of this. I think Paddington would have loved it.
But perhaps the main reason that I'm such a big fan of Paddington is the character's family-friendly attributes and his long association with the charity Action Medical Research, which supports sick babies and children, and also latterly with the NSPCC.
Giving something back is a hallmark of the Paddington brand and one that makes this small furry creature a truly worthy mascot for London and London businesses to get behind.
Frances Dickens is a finalist in the NatWest everywoman Awards 2014. Astus Group is the UK's biggest media barter company. It was launched in 2003 with the aim of pioneering a new ethical approach to media barter in the UK. For more information go to www.astusuk.co.uk
Now read…