Is WWW3 looming…?
The US has sent a fleet of B-1B supersonic, nuclear capable Lancer bombers that were being escorted by F-15C fighter jets to the North Korean coastline.
The Pentagon has said Saturday evening, that is sending a "clear message" to Pyongyang "this mission is a demonstration of US resolve and a clear message that the president has many military options to defeat any threat."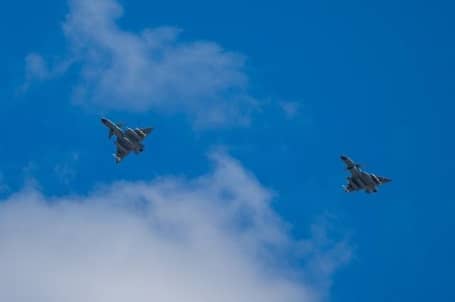 Source: @Photoshot
Dana White a spokeswoman for the Pentagon this clearly underscores "the seriousness with which we take North Korea's reckless behaviour."
White added: "This is the farthest north of the Demilitarized Zone [DMZ] any US fighter or bomber aircraft have flown off North Korea's coast in the 21st century, underscoring the seriousness with which we take [North Korea's] reckless behavior."
This flight of strength comes after a week of high tension, as President Trump called Kim Jong-un a "madman" a "rocketman" along with saying he is a "mentally deranged dotard."
North Korea's foreign minister, Ri Yong-ho also told the UN that the country was "only a few steps away from the final gate of completion of the state of nuclear force."
He said that Trump was a "mentally deranged person full of meglomania" that is "holding the nuclear button" and that "none other than Trump himself is on a suicide mission." 
Trump said as he joined Japanese prime minister Shinzo Abe and the South Korean president Moon Jae-in for a meeting in New York, that "North Korea's nuclear weapons and missile development is a grave threat to peace and security in our world and it is unacceptable that others financially support this criminal, rogue regime."
The Pentagon emphasised that Japano and South Korea were not involved in Saturday's, operation.