In an era where contactless payments and digital wallets are no longer considered novelties but necessities, Paytalya App steps onto the London fintech scene with a splash. This groundbreaking mobile application aims to revolutionize not just how we transact, but how businesses engage with their customers through robust digital solutions for the service industry. Here's everything you need to know about Paytalya App, the service that is set to make cash and bank cards obsolete.
All-in-one digital wallet marketplace
Paytalya App consolidates hundreds of brand-specific digital wallets into one user-friendly platform, effectively becoming a digital wallet marketplace. With the application, users can access and manage different wallets effortlessly, all under one digital roof.
But it's not just a place to stash your digital cash; Paytalya App takes convenience to the next level. Utilizing QR codes generated by brands, consumers can complete payments within seconds, avoiding tedious card insertions or even a second thought about having enough cash on hand.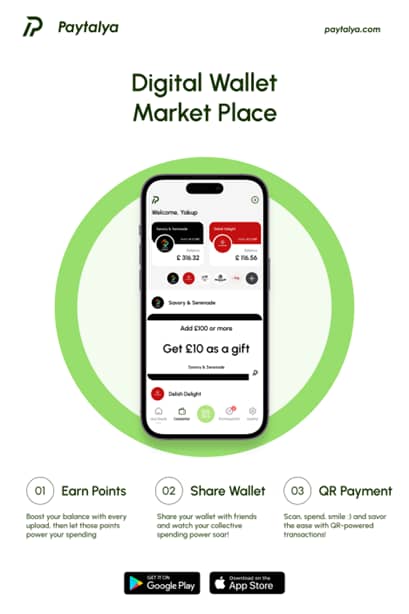 Flexibility and convenience for both brands and consumers
Brands have the freedom to create campaigns at will, attracting more users to their platforms and services. Meanwhile, consumers can activate whichever wallets they prefer, adding funds 24/7 to ensure they're never caught short. And that's not all! Paytalya App also provides the option to share activated wallets with friends or family, fostering a sense of community and shared financial responsibility.
A breath of fresh air in Fintech
What sets Paytalya App apart from other payment platforms is its innovative business model. The team behind Paytalya recognized the growing interest and market fit within the fintech space, specifically choosing London as their launch pad. With this strategic move, they aim to bring a new lease of life to payment systems in the fintech sector.
Leveling the technological playing field for businesses
One of the core missions of Paytalya is to accelerate digital transformation across businesses. The platform's robust technological infrastructure aims to provide businesses, particularly those in the service sector, equal opportunities to compete in the tech race, thereby democratizing digital capabilities across the board.
Looking ahead: Expansion plans
The founders are not resting on their laurels. Short-term goals include expanding their service offerings to Paris and Berlin, aiming to capture a larger share of the European market.
Final thoughts
Paytalya App is more than just a digital wallet or a payment service; it's an all-encompassing ecosystem tailored to enrich both the consumer and business experience. As it debuts in London's thriving fintech landscape, it sets a new standard for what we should expect from digital transactions and customer loyalty programs. If you find yourself in London, or anticipate being in upcoming markets like Paris or Berlin, prepare to make room on your smartphone for the Paytalya App.