The ace retailer on what businesses needs in 2013
What's your obsession with women's lingerie? I ask retail tycoon and Dragons' Den star Theo Paphitis
"I beg your pardon madam?" he says, raising his eyebrow at me and then breaking into a smile.
"Look, I don't understand why any girl should have to buy her lingerie in a supermarket with cooked chicken and coleslaw in the next aisle. Please! It's a sensual and a second skin product, you've got to buy it in a good environment.
"Plus, it's a business I know really well through owning Contessa Lingerie and La Senza."
And indeed he knows how to sell push-up bras and fancy knickers. Back in 1998, he bought La Senza for "a pound and two packets of Benson & Hedges" and sold it in 2006 for a stonking profit of over £100m.
Then, in 2011, Paphitis decided to get back in the business and launched Boux Avenue. The lingerie brand now has 17 stores in the UK and one in Iceland, Gibraltar and Malta. By December 2011, La Senza started to tank again, but Paphitis didn't come to the rescue.
It's not just lingerie that contributes to the 53-year-old Dragon's £180m wealth pile. He's got a majority stake in Ryman stationers and can be seen serving customers at tills at every new store opening. Then there's the 140-year-old hardware retailer Robert Dyas, which he bought in June last year for £10m. He also co-owns gift experience business Red Letter Days with fellow Dragon, Peter Jones. His other investments include Smarta, internet-based trading hub Zapper and Magic Whiteboard among others.
He lives with his wife Debbie in a mansion in Surrey which comes with a pool, games room, a gym, sauna and a jukebox. He drives around in a Maybach 62S which he calls the "chromobile". Why? "Because it's so shiny that you can do your make-up looking into it," says Paphitis. Oh! And he's got a thing for personalised number plates too. While the Maybach's number plate is RYM4N, he's known to have purchased T1 HEO (Theo) and DEB 131E (Debbie).
I meet Paphitis at the Ryman HQ in Wimbledon. Dressed in a crisp white and blue check shirt and black jeans, he sits in an office that isn't quite congruous to his celebrity status and I-like-to-flash-my-cash image. But like Paphitis, the office oozes retail. Boux Avenue and Ryman merchandise everywhere and shopping trolley shaped sofas all around.
He looks into his Rolex watch and says: "I've got 20 minutes, hope that's ok."
Before I interviewed him, I was warned that he'd talk about how his dyslexia meant that a certificate in colouring maps is as far as he got in terms of education and also that he would chat about his days working as a tea boy for a Lloyds of London broker. Cheesy business mantras were also a classic Paphitis trait, I was told.
And indeed, I got some oneliners like, "It took me 30 years to become an overnight success" and "My success wasn't exactly like X Factor." and "Retail is detail."
"Really?" I ask him, personally unconvinced.
"As cliché as it sounds, retail is nothing but detail," he says, while banging his fist on the desk.
"Take, Robert Dyas for example. I've loved and coveted the business for years. In fact, I've tried to buy it several times before and managed to get my hands on it only in my third or fourth attempt.
"You should see how gruelling the meetings are for turning the company around. I've put so much effort to get into every nook and cranny of the business and frankly it's paying off. We've had big double-digit increase in sales since last year.
"When I say big, I mean big," he says.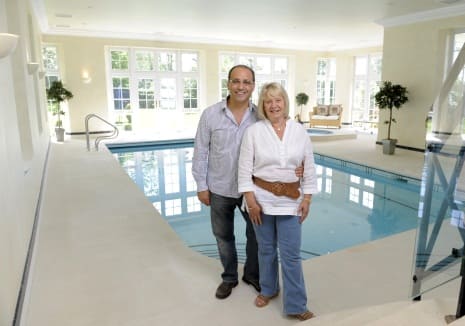 It's hard not to believe him, the man's got a trailblazing turnaround track record. He can make companies rise from the ashes. He bought Ryman in 1995 when it went bankrupt and today, the turnover of the company is £125m. The fate of Millwall football club was no different. Paphitis came on board as chairman in 1997, took it out of administration and into the FA Cup Final.
No mean feat.
Paphitis has damning verdicts about the High Street too. He quickly slips into a Mary Portas mode and explains the cancer that's killing our shops.
"The high street got here by three big whammies. The first was the half-wits who gave planning permission for supermarkets which killed the butcher, baker and the fishmonger. The planners didn't take into account that although supermarkets would generate revenue, they would cause damage for property and product rates elsewhere.
"The second whammy was when the planners gave permission to those big out-of-town shopping centres where you drive in your car, get free parking, can be in the warmth, can go to the cinema, get food and drink, all under one roof. Fantastic! So why would you want to go to the high street? You don't get all of that, plus you pay a great deal for parking."
The third whammy, according to Paphitis, was e-commerce, which has started taking over both the high street and the supermarket.
But then why is Paphitis snapping up retail businesses and putting them on the high street? We are in a recession after all.
"Listen, I don't think it matters whether businesses start in the recession or not. If you've got to make a different suit, you cut a different cloth. You should just know what your cloth is.
"I bought Ryman in a recession, I started Boux Avenue in a recession, and I bought Robert Dyas in a recession. Why some businesses fail is because they're mind-numbingly useless.
"A vast majority of businesses have packed up because they've had structural problems and have no reason to exist. They haven't been able to adapt to the changing retailing environment and even if they disappeared, nobody would miss them."
Paphitis then tells me that he likes to keep business as simple as "two plus two equals four".
But there are times Paphitis has got it wrong. He invested £60,000 Ploughcroft Building Services, a solar power company but sold back his shares in May 2012. The business went bust in September 2012.
I put this to him:
"Look, I screw up so regularly it's not funny. But that's because I make decisions. But no decision I make is all or nothing.
"I take very few risks. I stack the cards in my favour for everything I do. I've got a better chance of winning than anyone else. I make sure I know more than the next guy, do more research, I make sure I have better chance of success."
And this business nous, according to him, is what can make 2013 the year of growth and profit for UK entrepreneurs.
"If entrepreneurs want to make their business work and have a Maybach parked in their garage, they need to do their homework.
"Research, go out and see what's in the market, think of ideas to beat competiton. Don't start swinging from chandeliers when you get a mention in the press," he asserts.
To grow in 2013, Paphitis says we've got to "stop kicking ourselves" and get out there to do the job. But to do that, he says, the government needs to stop doing "PR stunts" and should start working on getting the economy going.
"A government that listens, a government that does not just talk, and a government that forgets about the elections – is what we need. Jobs is a key factor here, if people get jobs, they will spend money. If they spend, the economy would flourish. People won't rely on benefits and they would be happy to pay tax.
"I think they sp
end too much time thinking about getting re-elected than doing what's right."
What about his plans for 2013?
Apart from consolidating all his businesses, Paphitis is going to continue feeding his obsession for women's lingerie with Boux Avenue.
"I am not going to stop till women buy their lingerie like they buy a sandwich."
Theo Paphitis – Time Line
1959       Born September 24 in Cyprus
1976       Leaves school to become a tea boy for a Lloyds of London broker
1978       Shop assistant at Watches of Switzerland
1979       Started a sales job in the insurance industry
1982       Launched first business, Surrey & Kent Associates, a property finance broker
1990       Bought Movie Media Sports, a media agency
1995       Bought Ryman
1996       Acquired Contessa
1997       Bought Millwall (8 year tenure as Chairman)
1998       Acquired La Senza
2001       Bought Partners, a chain of stationery stores
2005       Acquired Red Letter Days
2005       Becomes a Dragon on BBC's Dragons' Den
2006       Sold interest in La Senza (UK) and Contessa
2007       Acquired Stationery Box
2008      Combined the stationery businesses to launch Ryman Stationery
2010      Presented BBC TWO TV Series Theo's Adventure Capitalists
2011      Launched Boux Avenue lingerie, nightwear and swimwear multi-channel business
             Presented BBC TWO TV series Britain's Next Big Thing
2012      New Boux Avenue stores open in Iceland, Gibraltar and Malta (plus 17 UK stores).
Boux Avenue wins Global RLI Award for Rising Star of the Year.
The Board of Robert Dyas Group announces the sale of the company to Gladys Emmanuel Limited, a company fully owned by Theo Paphitis, for an undisclosed sum.
Series 10 of Dragons' Den runs on BBC Two.