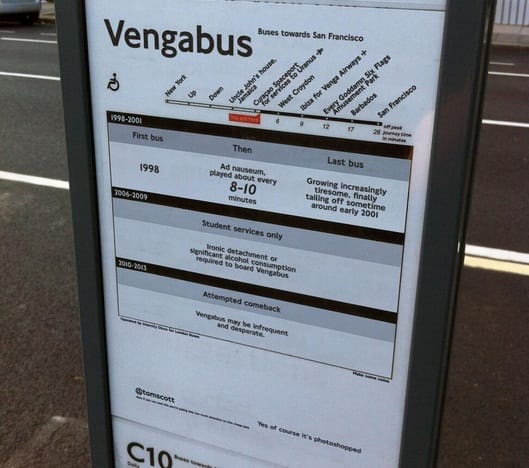 Source: Tom Scott
Fancy going to San Fransisco on a London bus? Then look no further, for the Vengabus is coming!
A hoax London bus map doing rounds shows a timetable for the Vengabus, the nineties hit song by pop group Vengaboys.
The bus stops on the route include "Uncle John's house, Jamaica", "Ibiza for Venga Airways" and even, "Curacao Spaceport for services to Uranus".
The timetable, designed by social media expert Tom Scott, charts the history of the band with 1998 being the year where "ad nauseum played about every 8-10 minutes, growing increasingly tiresome, finally tailing off sometime around early 2001." (In case you failed to take Latin in school, ad nauseum translates to a disgusting or ridiculous degree; to the point of nausea.)
I suspect this isn't an official Transport for London bus timetable. #boomboomboomboompic.twitter.com/x6pgW9QwfU

— Tom Scott (@tomscott) August 27, 2013
Then in 2006-2009, the Vengabus was for "student services only" with "ironic detachment, or significant alcohol consumption, required to board Vengabus".
Between 2010-2013, the Vengabus may have been "infrequent and desperate."
For all those who think the map may be for real, Scott has left a slogan at the bottom of the map which reads "Yes of course it's photoshopped."
And for all those of you who might've forgotten the lyrics, we dare you to watch this video till the end. Yes, really, the very end:
Video:
Vengabus is coming