The Wall Street Journal Dollar Index rose by 0.2%, and the U.S. Dollar Index (DXY) increased by 0.5% during Thursday's trading session after relative calm in the markets throughout the European period.
Both are on track to end the month on a high note. The American currency also gained 0.6% against the euro, 0.5% against the pound, and the Swiss franc.
The dollar is being supported by fresh U.S. data indicating that inflation is surpassing the target set by the Federal Reserve and that labor markets are flexible and robust. While dollar indices approached their recent highs earlier this week, a set of statistics suggesting an economic slowdown weakened the dollar before its partial recovery today.
Currently, the U.S. Dollar Index (DXY) shows mixed trading performance. Despite a 1.4% increase this month and breaking through the main trendline around the 103.40 level, it lost 0.8% over the past week. Hopes for continued high interest rates had previously bolstered the dollar's strength. However, data pointing to U.S. spending and employment slowdowns began to erode the dollar's gains this week.
Regarding the impact of data and today's limited dollar gains on major indices, I expect the dollar's strength to have a more pronounced effect during the U.S. session. I anticipate that key stock indices on Wall Street will close the month with a notable decrease. This comes after the release of U.S. personal consumption and core personal consumption expenditures data, a fundamental inflation gauge from the Federal Reserve, which was just released at 4.2%, up from the previous reading of 4.1%.
Additionally, U.S. jobless claims decreased from 232,000 to 228,000. I believe the data is generally positive for the dollar, and the market's reaction has been limited thus far. However, the negative data showing a decline in U.S. second-quarter growth from 2.4% to 2.1%, as reported by the Commerce Department yesterday, could exert negative pressure on the dollar. Meanwhile, labor market data and payroll reports support the dollar's upward momentum.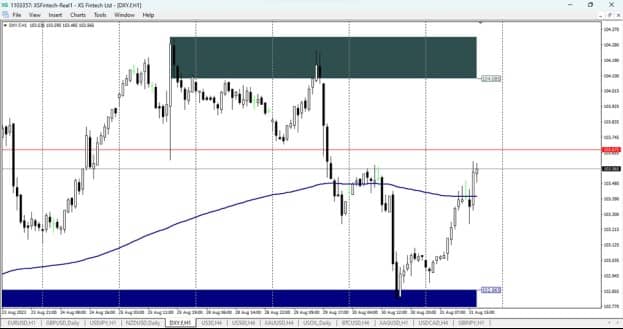 The Dollar Index (DXY) price chart on the MT4 platform by XS.com
In the short term, I anticipate cautious upward movements in the U.S. Dollar Index prices during the U.S. session today and as the monthly closing approaches. While the dollar has demonstrated strong performance fueled by hopes of interest rate hikes, the mixed and conflicting economic data calls for cautious optimism regarding the Federal Reserve's interest rate stance and the timing of its announcement to start tapering. Furthermore, the hesitation and weakness in European and Japanese markets bolster relatively bullish expectations for the dollar in the short term. It could potentially target levels around 103.90, as depicted in the chart above.