According to the head of the Office for Budget Responsibility
Robert Chote is head of the Office for Budget Responsibility (OBR), the government's independent body set up to make economic forecasts and analyses.
He's just told MPs what he believes the greatest risk to the UK economy is: that productivity won't recover.
He believes the "productivity puzzle" is a bigger threat than geopolitical uncertainty and the risk of instability in the Eurozone, he told MPs, in comments reported by the BBC.
Britain's "productivity puzzle"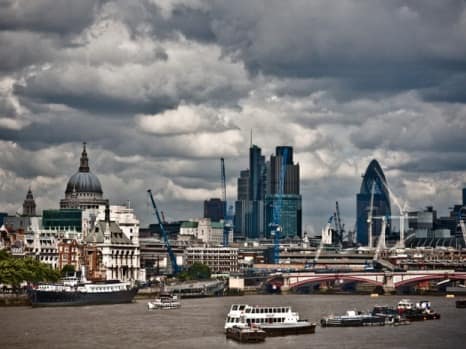 The economic measure of productivity looks at the amount of economic output created per unit of labour input – in other words, how much goods and services we create per hour worked, per job or per person working. (The ONS looks at output per hour worked.)
The ONS explains that productivity is "the national determinant of living standards". (You can find out more about how the ONS looks at productivity here.)
The strange thing is that while employment has grown by two million private sector jobs since 2010, and hours worked in the UK recovered to their pre-recession levels in 2012, output per hour is still a very troubling 16% below what it was pre-crisis, according to the ONS's most recent figures (Q2 2014).
The UK has the second-to-worst productivity in the G7, behind the US, Germany, France, Italy and Canada, and only ahead of Japan, according to figures for 2013 published by the Office for National Statistics in October this year.
Those figures showed that UK productivity was 17% below the G7 average – the lowest it's been relative to the average since 1992.
In June this year, the Bank of England revealed that productivity in the UK was still 16% lower than before the financial crisis.
Yet it struggled to explain why, also calling our productivity gap a "puzzle".
And here's another thing: productivity in the production industries (i.e. those that make goods) actually grew by 0.7% in Q2 2014, according to the ONS.
But productivity in the services industries was down 0.1%.
And because our economy is services-dominated, that meant an overall drop in productivity of 0.3% on Q2 2013.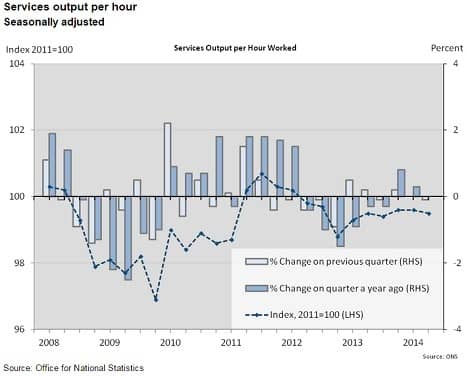 This is what's worrying economists, and why Chote believes our productivity gap will be such a big threat, if we can't manage to close it.
Because things are not going in the right direction with this key economic measure.
LONDON ECONOMIC NEWS, TRENDS & INSIGHTS