Tensions are on a knife edge
Pyongyang's vice foreign minister has said that they will not "keep its arms crossed" if there are any pre-emptive strikes by the US.
He further added that they are ready to use its "powerful nuclear deterrent." North Korea has further warned President Donald Trump that they are ready for war with the US.
Wednesday North Korea said it will "hit the US first" with nuclear weapons if there are any signs of US strikes.
In a statement, North Korea said: "by relentlessly bringing in a number of strategic nuclear assets to the Korean peninsula, the U.S. is gravely threatening the peace and safety and driving the situation to the brink of a nuclear war."
Han Song Ryol said to the Associated Press he blames Trump for "making trouble" through "aggressive" tweets and added that North Korea will continue with their nuclear test when the supreme headquarters sees fit.
It is expected that North Korea will fire their sixth nuclear test tomorrow.
Ryol who is North Korea's top diplomat said: "We will go to war if they choose."
"We've got a powerful nuclear deterrent already in our hands, and we certainly will not keep our arms crossed in the face of a US pre-emptive strike."
The US sent the USS Carl Vinson along with a Naval strike force to the peninsula which arrived Thursday to conduct military exercises with South Korea.
Source: @Photoshot
In just two weeks Trump has ordered a missile strike on Syria after the claimed chemical weapons attack in Idlib killing more than 80 people.
Yesterday he ordered the 'Mother of all bombs' to be dropped in Afghanistan which is the largest non-nuclear bomb in their arsenal. Is Trump trying to send North Korea a message?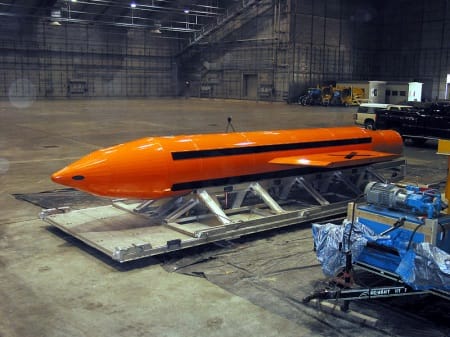 Source: US Airforce
Source: US Airforce
This spraked outrage from Hamid Karzai the former president of Afghanistan, who tweeted Thursday:
I vehemently and in strongest words condemn the dropping of the latest weapon, the largest non-nuclear #bomb, on Afghanistan by US…1/2

— Hamid Karzai (@KarzaiH) April 13, 2017
2/2 military. This is not the war on terror but the inhuman and most brutal misuse of our country as testing ground for new and dangerous…

— Hamid Karzai (@KarzaiH) April 13, 2017
2/3 weapons. It is upon us,Afghans, to stop the #USA.

— Hamid Karzai (@KarzaiH) April 13, 2017
Trump has said that North Korea "will be taken care of," whilst Pyongyang has slammed the US for bringing "huge nuclear strategic assets" in the Korean peninsula.
Trump tweeted Tuesday that North Korea is "looking for trouble."
Appeals have now come in from Russia and China to resolve this via diplomatic means. Russia has called for all sides to exercise "restraint" and to "refrain from any actions that could amount to provocative steps."
Dmitry Peskov a Kremlin spokesman said: "We call all countries for restraint, we call all the countries to refrain from any actions that could amount to provocative steps."
China who is Pyongyang's only ally said Friday the current situation has to be stopped before it reaches an "irreversible and unmanageable stage."
Wang Yi the Chinese foreign minister has called on "all parties to refrain from provoking and threatening each other."
He added: "Force cannot solve the problem, dialogue can be the only channel to resolve the problem."