CEO Allon Bloch on winning $32m investment and hitting three million monthly visitors
It is probably not an exaggeration to say that Mysupermarket is the most intriguing dotcom in Britain right now.
The six-year old website has three million monthly unique users in the UK, 100 per cent year-on-year growth, and is singlehandedly changing the way supermarkets price their goods.
If you don't know it yet, Mysupermarket is a price comparison service for supermarkets. Instead of doing a shop on Tesco's own site, or Sainsbury's, consumers fill a trolley on Mysupermarket.com. As the trolley gets filled with lasagne, milk, Nutella, Colgate and ready meals, a running total is displayed showing which grocer can fulfil the order cheapest.
At the checkout the user can select which supermarket to go with, picking between Tesco, Sainsbury's, Asda, Waitrose, Ocado, Majestic wines, Boots and Superdrug. Orders are then redirected to the selected retailer, who fulfils the order.
Shoppers thus ensure they always get the lowest total basket price. Savings can be as high as 20 per cent of the final bill.
"If we were a grocer, in terms of traffic we would be the fourth largest, behind Tesco, Asda and Sainsbury's"
In addition to basic price comparison, the site is bursting with extra money-saving add-ons. If buying two small boxes of dishwasher tablets is cheaper than a large one, or Coke is cheaper than Pepsi, or one ready meal cheaper than another, the site will pipe up with advice. Shoppers can accept the cheaper alternative with a single click.
If vouchers are accepted by the supermarkets, these will be automatically presented to the shopper at the right moment.
In short, the site makes sure the consumer takes advantage of every possible deal, and can no longer be bamboozled by loss-leaders or other eye-catching promotions.
"If we were a grocer, in terms of traffic we would be the fourth largest, behind Tesco, Asda and Sainsbury's" says chief executive Allon Bloch.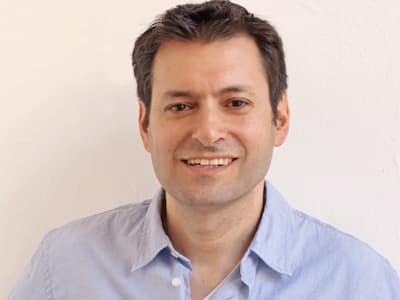 The model proved powerful enough to lure WPP as an investor earlier this month. WPP Digital ploughed in $7m for an undisclosed stake. Existing shareholders Greylock Partners and Pitango Venture Capital invested a further $3m in the round, taking total fund-raising to $32m.
I ask whether the supermarkets hate him. He says they don't. "A lot of them love us. Like anything else, if you are good, you don't mind being compared. But if you are taking advantage of customers, using loss leaders whilst not decreasing the cost of the trolley, then you will be found out.
"When someone chooses to check out at Sainsbury's via Mysupermarket, despite all the choice we have offered them, that is a very positive message for Sainsbury's."
This, of course, is a crumb of comfort for retailers who are being dragged into a price war.
What are the odds one of the majors will block Bloch?
"It is impossible for them to block me," he says. "They would need to take their site down to block us."
I turn to revenue. Mysupermarket is free to users, and makes no money from affiliate fees. It only has two sources of income: advertising and providing data to retailers and brands. The VCs and WPP, who are happy to invest big cash into Mysupermarket, clearly think this monetisation will work. And why wouldn't it?
Mysupermarket offers a unique insight into shopping habits. With three million monthly customers it has scale. It tracks consumer habits, such as how willing they are to substitute one brand for another to save money. This is the sort of data supermarkets and brands are addicted to.
The potency of the site to shake up retailing is not in doubt. Supermarket sales in the UK amount to around £150bn a year. As sales move online, Mysupermarket can hoover up this traffic
"We have more than 60 manufacturing customers who buy data from us," reveals Bloch. "The major producers like P&G, Kimberly-Clark and Unilever need to understand how to make their advertising and promotions more effective. That is an area where we can help them."
Analysing sales data is technically challenging ("rocket science" is how Bloch aptly describes it). In February Mysupermarket announced a tie-up with data analytics major IRI. "They have guys which PhDs who can take the data and present it in a way which brings insights to clients," says Bloch. And the introduction of WPP will add to this expertise.
So Mysupermarket isn't just a negative force, driving down prices to help consumers, but a valuable addition to the way supermarkets collect customer data. Basket sizes and cross-selling may increase as a result.
Bloch refuses to discuss actual revenue figures, or even to let me know whether the company is in the black yet (which I assume means it isn't), but the investors have obviously been using their calculators and estimated the potential for profit.
The key to big cash generation is likely to be international expansion. The website has versions in the UK, Israel and Japan, and is set to launch in the US. If you want to create your own website, here is a list of several good website builders.  And Bloch won't stop there. He has earmarked a substantial share of the latest investment round to fund expansion into new markets. With 75 staff, spread between Marble Arch, Tel Aviv, New York and Tokyo, overheads are on the low side.
On the downside, there is the potential for copycat sites. Fortunately for Bloch and his investors, nothing has emerged yet.
"What we do is non-trivial," says Bloch, "It would not be easy to copy us." But he's taking no chances. Much of his war-chest is being invested developing new functions to the site to make it stand out from any potential rivals.
"We are adding health filters, so you can shop by gluten or organic good. And we want to add more information and research. If you are looking at batteries you will want to know how long each brand lasts. Then you can make an informed choice over whether to pay more for a brand or not."
The potency of the site to shake up retailing is not in doubt. Supermarket sales in the UK amount to around £150bn a year. Tesco alone soaks up one pound in seven spent on the high street. As sales move online, Mysupermarket can hoover up this traffic.
Bloch – who counts Wonga.com's Errol Damelin as a close friend – says he's not thinking about an exit. Right now he's just keen to grow traffic, monetise the concept and build Mysupermarket into an internationally known brand.
A valuation? Too early to say, but if the US launch can match the runaway success of the UK operation then investors will be swinging from the chandeliers. Put it like this: Instagram was worth a billion dollars for its data, based on hipster photos and with zero revenue. What price would you put on a Mysupermarket's rich inventory of how millions of consumers do their grocery shopping? Seven zeroes? Eight? Nine?