From Berkeley Square to Covent Garden, check out the best flexi-working spaces in the capital
If you think that staying chained to your desk all day is the best way to impress clients coming in for meetings, innovate independently, stay productive throughout the day and collaborate with colleagues then, dear reader, you are wrong. It's 2013, the year of the 'flexecutive': a professional who can work anytime, from any location, and who recognises that getting out and about to different workspaces holds a multitude of benefits.
Belinda Earl, the former Jaeger boss who is now at Marks & Spencer as style director, works thrice a week from remote locations – and loves it. Sir Richard Branson has also banged the drum for flexi-working, last month saying Virgin likes "to give people the freedom to work where they want".
It's just not the big names that endorse the idea of flexi-working. A recent survey by Regus, the global workspace providers, found two in five professionals (39%) in the UK are now able to work from locations other than the company's main offices for at least half the week.
The most common myth about flexible working is that it only means working from the kitchen table. Regus has over 40 locations in London and the surrounding areas that you can work from and use to drop in and work whenever you're on the move, or if you just want a change of location for the day.
Check out the top 20 flexible working locations in the capital below, and what they're all best for, to find the best flexi-working space for you:
1. Co-working in central London
Berkeley Square
Whether you're a hedge fund hotshot or a real estate tycoon, you will always come across the problem of where to go in-between meetings! You can travel back to your office or find a coffee shop but a co-working location could be the answer. Take a look at the business lounge in Mayfair's Berkeley Square, where you can use the space for an hour or two, or up to a whole day. The lounge is based in a Grade II listed building; it is an ideal place for co-working in a stunning environment. Whether that's working for the whole day in a buzzy atmosphere where you can chat to like minded people or just as a space to pop in and check you emails in-between meetings.  And with Michelin-star restaurant Benares and ArcelorMittal's office round the corner, not to mention the rest of the Mayfair set, you know you're in great company.
Lombard Street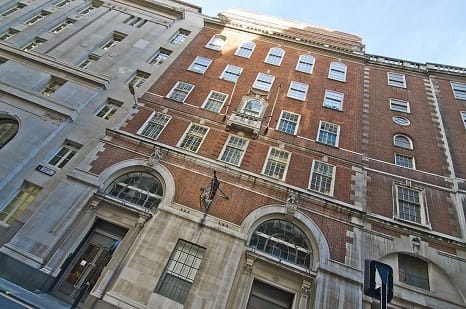 Slap bang in the middle of London's financial district, this flexible working location in Lombard Street has the Bank of England on one side and the world's biggest banks, accountants and law firms on the other. That gives you all the buzz of the City, but in a space tailor-made for co-workers' needs. Share conversations and insights with contacts and colleagues in the spacious business lounge, and gather around screens by the refreshments bar to view projects together in a more informal environment. Day offices and meeting rooms are available if you need more private conversations with colleagues or clients who you are meeting outside your usual office. When you need a break, grab a bite from Leadenhall Market's amazing food stalls and cafes.
2. In-and-out of London
Beaconsfield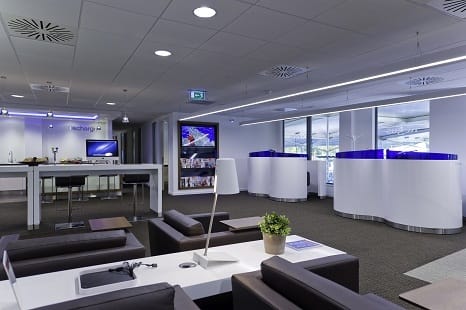 If you make a lot of trips in and out of London, and like to stay productive and energised while you're on the move, then this is the space for you. This business centre at the M40 J2 in the Extra Motorway Services Area is just four miles northwest of the M25. Whether it be taking a quick break to revise your presentation, or meeting colleagues mid-way to avoid the London traffic, this premises will help you stay efficient despite your travels – particularly with plenty of nearby amenities to keep you refreshed, and decent WiFi to keep you connected. This airy space offers a shared business lounge, and meeting rooms in case you need to talk in a more intimate environment. Wondering about parking? It's free.
Another mobile worker's hub, the business centre in Cobham is located on the M25, midway between Heathrow and Gatwick Airports – making it ideal for bringing together flexible-working overseas visitors, Londoners and/or out-of-towners. You can chill in the lounge area's luxurious leather chairs, create some mental space in one of the more secluded ThinkPods, or get together round a meeting table in your own room. WiFi in the business lounge ensures that after a long drive you can still catch up on emails, ensuring you remain productive while on the move.
3. Stunning settings
Chiswick
How would you like to work in a building designed by One Hyde Park architect Sir Richard Rogers with a lake, waterfall, trees, gardens, and walkways? This premises has scooped up numerous awards for its design and landscaping. Whether you're a start-up or an established company, you'll be in the vicinity of hugely impressive neighbours including Pepsico, Walt Disney and Swarovski. If you're not convinced then access to fitness programmes like 'Fit for a Fiver', a year-round lunchtime class offering yoga, Pilates, tai chi and kick-boxing, might do the trick.
London Bridge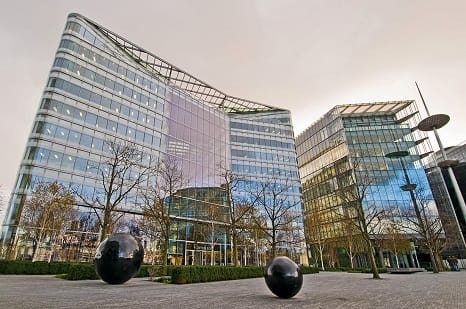 Drop into More London, a building designed by architects Foster & Partners, and you'll find the Thames and London Mayor Boris Johnson's office on one side and Tower Bridge and the Shard on the other. Get your clients here for a professional environment with an amazing backdrop, then schmooze them in the flurry of restaurants in the vicinity.
4. Making an impression with an iconic address
Westminster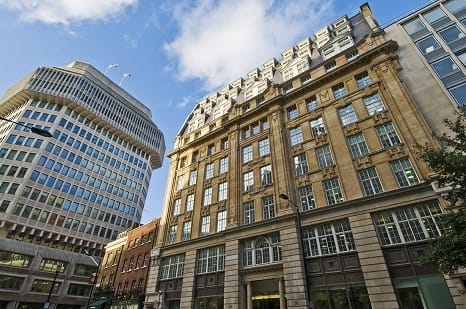 To have a work station close to Parliament, Big Ben, London Eye and Buckingham Palace feels uber-exclusive. Working from an address right next to Buckingham Palace and St James's Park makes you look highly professional and impressive, particularly to international clients – as will the beautiful brick exterior of this beautiful building. A business centre, business lounge, offices and meeting rooms make sure all your needs are catered for too. In fact, we wholeheartedly recommend this location. Why? Well, Westminster is where LondonlovesBusiness.com HQ is based.
Trafalgar Square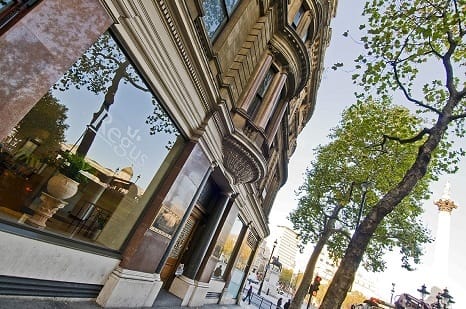 Another case of location, location, location. Using a business lounge or business centre in Trafalgar Square doesn't just put the West End on your doorstep, it also gives you access to creative industries, the financial district and the hospitality industries – perfect if you are working away from your usual office and have a string of meetings with associates in those industries, but want a base for the day at a postcode that packs a punch. Working out of this very recognisable location, on the south side of Trafalgar Square, means building instant credibility. The stunning brick building will make a very strong first impression with clients too.
5. Access to London's creative scene
Covent Garden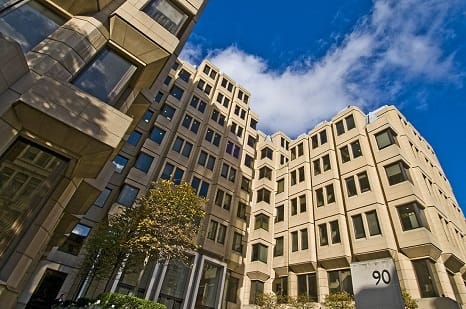 With a double-height reception and central atriums offering lots of natural light, you can expect your creative juices to flow at full speed at this flexible workspace in Covent Garden. Dropping in here means you get the peace and quiet of a professional business environment, while still being able to step out into the hubbub of Soho and Fitzrovia to meet creative colleagues and clients. This business centre is conveniently based slap-bang in the middle of Long Acre, in a rather stunning stone-clad building. Of course, this is one location where you'll be spoilt for choice for cafes, restaurants, theatres, et al.
Kensington
If you're a fashionista or designer, it doesn't get much better than working from the Hammersmith Road in the highly distinctive Crown House. A hub of chic boutiques, interiors and designer labels are all nearby. From day offices to business lounges, this is the location you can to drop into to get things done when you're in the area or need a change of scenery, or to use for client meetings. It's got great access to Hammersmith Broadway and Barons Court stations, not to mention the West End or M4 if you're travelling by car, making this a great meeting point for other flexible working colleagues.
6. Architecture to inspire
London Wood Street
Wall-to-ceiling windows, humongous glass lifts and solar controlled blinds – 88 Wood Street, designed by Sir Richard Rogers, is considered a landmark because of its architecture and amazing views of the capital. You'll be overlooking St Paul's Cathedral, the Thames, the Oxo Tower, the London Eye and the Barbican, making this a flexible space that will truly dazzle important clients and associates – or inspire you while you work away from your usual office, surrounded by a stunning bath of natural light, with all the amenities and facilities you need from a flexible work space.
New Broad Street House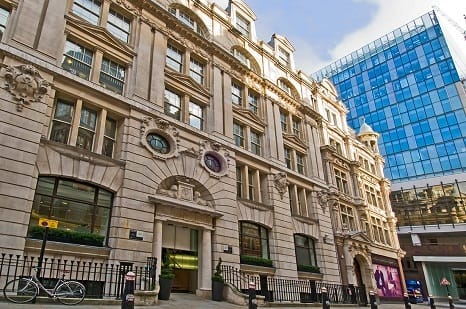 If it's a building with character you're after, then you'll love New Broad Street House's decorative façade. The exterior epitomises the very best of Victorian architecture in London, while the location means you are perfectly positioned to meet City contacts in a particularly good-looking location. Inside, airy and contemporary design makes the six-floor spread of this workspace just as attractive inside as the building is from the outside. A glass roof and plush cream leather chairs complement the setting.
7. Breath-taking views of London
Victoria
Look up from your seat in Portland House and you'll find yourself staring at the best views in London. Why? Because you'll be sitting in the tallest building in southwest London, with some 29 storeys. With the most eye-catching views of the Palace of Westminster, London Eye and Big Ben, this location will give you and your colleagues an incredible bird's-eye view of the capital – perfect for impressing nearby contacts, or to keep your imagination fired up while you work away from your usual day-to-day location.
Broadgate Tower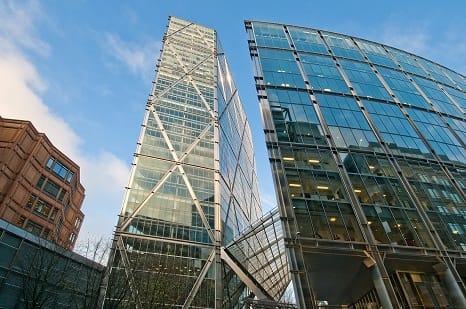 With 33 storeys and located in the City of London's financial district, this stunning steel and glass skyscraper is the perfect place to pop in if you want to work surrounded by panoramic views. With floor-to-ceiling glass all around you, this building is one of the first in the UK to sport quirky double-decker lifts, with the lower deck doors opening to odd-numbered floors and the upper deck opening on even-numbered floors. You'll find yourself working alongside big corporates in sectors like global law, international trading, internet technology and financial service, making this a great location to impress key London industries if you need a meeting space away from your usual workplace.
8. Heart of the City
Monument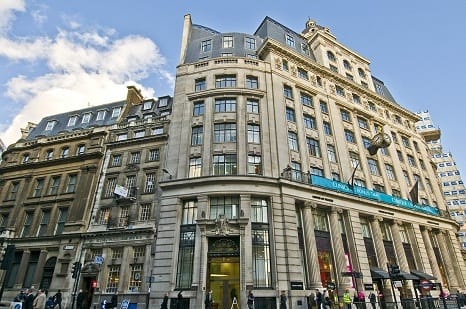 If you need to be in the City of London then it doesn't get more central than this. Right next to Monument Station, this location will help you build rapport with potential clients in the banking and financial services sectors. For lunch, Borough Market and Leadenhall Market are walking distance – then wander back to this flexible working space to get your head down away to meet nearby associates and a more local location than your day-to-day office.
St Paul's
The London St Paul's business centre is arranged over five floors of a majestic seven-storey Grade II listed building, right at the epicentre of London's financial district. Enter and you'll be greeted with a grand entrance and reception area complete with marble pillars, ornate plasterwork and a carpeted wide staircase leading to all floor, and two beautiful light wells. Flanked by the London Stock Exchange and the Old Bailey, this is where you'll find HQs of London's top companies in IT, recruitment, training, banking, legal and financial services sectors. Work from here to meet with contacts throughout the day away right on their doorstep, or set up a meeting for up to 50 people in the spacious meeting room.
9. Get close to financial services
Poultry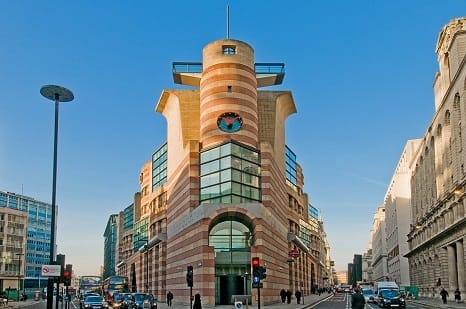 If you're working in or with the financial sector then the London No.1 Poultry Centre is the perfect location for you. At the junction of the financial district's major roads, the building is close to the Bank of England, Lloyd's of London and the world's major banks – not to mention great transport connections, making it ideal for when you need somewhere to drop in and get work done in-between meetings around the City. Designed by architect Sir James Stirling, it also happens to be perhaps London's most iconic postmodern building, with its unusual forms and pink and beige colours. What else? The lower two levels house handy shops so you can stock up on necessities if you're just stopping by, and it also has roof-top gardens – perfect for impressing well-to-do local clients.
Canary Wharf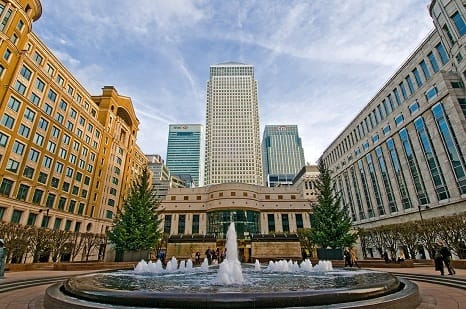 Now who wouldn't want to work out of 1 Canada Square, London's second-tallest skyscraper, and probably the most iconic building in Canary Wharf? Based out of one of the most enviable London office addresses, you'll build instant credibility in this covetable location whether stopping by for meetings or to co-work with neighbouring financiers and media hounds. Working here puts you in the top league of the financial world. The building has appeared in many a film, thanks to the picturesque views of London from the top, and was designed by architect Cesar Pelli. Oh, and did we mention the extensive selection of retail outlets, cafes and restaurants on the lower ground floor? You'll find everything you need when working away from your usual workplace – plus a nice spot for lunch, too.
10. Best for start-ups
Ealing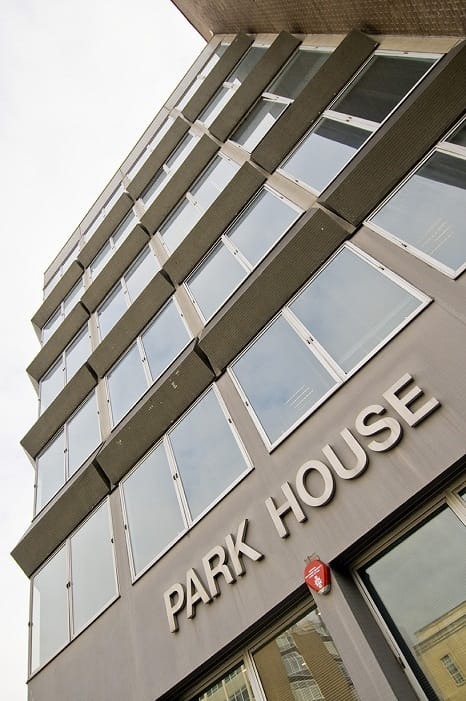 Known to be a hub for small and medium-sized businesses, dropping in here means you get to network with like-minded companies and share your experiences of starting a business. The location is particularly useful if you want to rub shoulders with the banking, financial services, insurance and media industries located in the area. According to the ONS, job growth in the borough has been faster than in the rest of the UK, so Ealing is a great place to find top talent too – and with this flexible workspace you can meet key candidates at their convenience. A further benefit is being around the buzz of London's film industry, making the London Ealing Centre a good place to be for creative entrepreneurs.
CityPoint
Taking up four floors of this 36-storey building, CityPoint business lounge is ideal for cracking contacts in the law, accounting, recruitment and IT sectors based nearby – particularly as many business within those sectors are based inside this very building. That makes this flexible space ideal for meeting potential clients at their convenience, in a space that will impress. What's more, you get stunning views of the Gherkin, Tower 42, Broadgate Tower and Canary Wharf from the east side, and of the Barbican Centre from the west.
This article is brought to you in partnership with Regus – call for more information about the spaces above on 020 7872 5770
More for you:
Register for our free newsletter
For up-to-the-minute insights, news and gossip for London professionals and business leaders
The London Business Summit: Thriving in London, Tuesday 25 June 2013
Discover opportunity, explore innovation, drive long-term profits 
Speakers include Martha Lane Fox, Alastair Lukies, Julie Meyer, Mike Butcher, Jo Valentine and many more.
READ ONLINE NOW: Securing Britain's Future
How London's business leaders would safeguard our economic future
Boris Johnson, Martha Lane Fox, Doug Richard, Xavier Rolet and more than 25 other CEOs and entrepreneurs share their insights.