From Christmassy to quirky and cool, the capital has got it all
Forget knitted jumpers that will be banished to the back of the wardrobe post-Christmas Day, or tacky tinsel decorations that shed faster than your pet Labrador and ruin your chic dining room.
Think upmarket and classy instead, with this year's pick of the best Christmas markets where the wares are glamorous and bespoke.
Soak up the atmosphere, enjoy the evocative sounds, sights and smells of all things festive, and snap up a fantastic gift – designer if you like – as you do it.
Here is our rundown of some of the best Christmas markets London has to offer, whether you prefer your shopping experience intimate or bustling.
You decide if you'd like to sip champagne on a carousel between purchases or dance the night away under glittering mirrored lighting.
And finally tick that dreaded Christmas shopping list off your agenda while you're doing it!
1. Winter Wonderland, Hyde Park
Famous and celebrated year after year – and with good reason – Winter Wonderland at London's Hyde Park offers luxury entertainment and endless shopping under one glitzy roof.
Open until 5 January (excluding Christmas Day) this year boasts two eye-catching Christmas markets where you can pick up one-off pieces from more than 200 wooden chalets.
There's still time to get your home looking the part with a plethora of glamorous decorations on display – and a selection of refined handicrafts sure to please your nan/aunt/crafty pal!
And if your main reason for attending is the grown-up fun on offer, then this year will be a real treat with the 2013 launch of the Mirror Bar. Let DJs and live bands entertain you while you enjoy festive food and drinks under the dancing lights of mirror balls.
Not able to book that French chalet this year? Sample the next best thing with Hyde Park's first après ski bar based on a traditional alpine ski lodge. Or stick with the old favourites – the Giant Observation Wheel and Magical Ice Kingdom are still going strong.
Still needing an entertainment fix as the night draws in? You won't be disappointed with Zippos Cirque Berserk – a 'circus thrill show' including knife-throwing, fire, ultimate High Wire and Wheel of Death. Spoil yourself to the max by upgrading to a VIP box with champagne.
www.hydeparkwinterwonderland.com
2. Christmas Design Market, Barbican Centre
For directional finds to please your trendiest pals, look no further than the Design Market at the Barbican Centre.
Offering a more intimate atmosphere than some of the big extravaganzas, visitors can peruse the four-week installation of one-off homewares, decorations, accessories and jewellery in an artistic setting.
Exclusivity is the name of the game here and you won't find anything remotely high-street. Instead look out for small-scale designer finds and the best of up-and-coming talent.
The organisers promise no two days will be the same in this carefully curated market, so catch it early and you may find yourself returning before the event finishes a few days before Christmas.
Guaranteed to be the go-to place to find something really special and pleasing to the most discerning on your list – and yourself of course.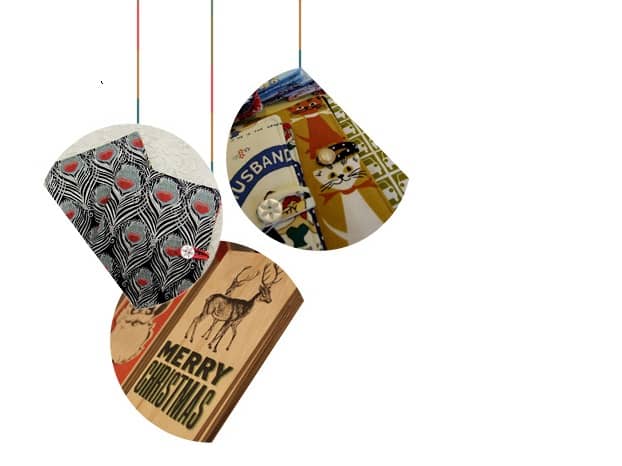 3. Southbank Centre Winter Festival, London
A transformation is taking place to transform this famous arts centre on the southern bank of the Thames into a festive extravaganza offering products and entertainment under its many rooves.
Take your pick from 80 wooden chalets lined up against the heavenly riverside backdrop showcasing mulled wine, bratwurst and ginger bread and other gifts.
And while you shop, soak up the atmosphere with music, a choice of two exhibitions from the Hayward Gallery and a chance to experience Slava's Snowshow or watch the acrobats of Folds tumble through a set made entirely of paper and cardboard.
Worth a special look is the Chocolate Festival, which starts on 7 December in Southbank Centre Square and offers the chance to indulge in the finest artisan chocolate. Check the website for opening times.
Or pop along to the Real Food Christmas Market on 14 December and sample charcuterie, chutneys, cheeses and mince pies or take in a workshop or demonstration as you eat drink and shop.
A special mention must go to the daily choir performances that will form part of the event from 16 December. Watch two choirs sing classic Christmas carols on Queens Walk in front of the Christmas Market stalls. Not to be missed.  
4. Dalston Christmas Market, Hackney
If a lazy Sunday spent shopping in one of the coolest areas in London appeals then put Dalston Christmas Market in your diary for 1 December.
The event, which celebrates up-and-coming creative talent, kicks off at 11am with a lively introduction from television presenter Yemi Saywerr who provides entertainment and laughs throughout.
Also featuring TV comedian, journalist and chef Hardeep Singh Kohli, the event offers a great chance to people watch London's coolest creatives while blagging some great presents.
A plethora of exciting talent will be on display and visitors can get to see artists, ceramicists and fashion and jewellery designers present their wares personally against a backdrop of pulsing music and comedy.
Sure to be filled with those covetable never-going-to-find-on-the-high-street gifts and goodies that will impress your trendiest pals, look out for exhibitors Anna Mae's Mac N Cheese – with pimped up toppings – and new sustainable lingerie brand Augustine London.
So that's your eco-warrior pal and your too-cool-for-school cousin sorted then!
5. City Christmas Fair 2013, Drapers Hall
Settle down at the Champagne Bar for a well-earned glass of fizz as you place a bid on the Silent Auction at The City Christmas Fair at London's historic Drapers Hall on Monday 2 December from 11am – 8pm.
The event, in aid of Wellbeing of Women, helps raise money for the charity which works to improve the health of women and babies and make a difference in their lives.
Luxury goods are on hand to make exciting stocking fillers. Why not treat the men on your list to an Italian cashmere scarf from Bird of Paradise or get creative at Apatchy with a personalised gift designed for teenagers.
Have a go at the raffle for your chance to win luxurious prizes including champagne and chocolate from Fortnum and Mason and a voucher for designer shoes.
And trying your hand at the Silent Auction is a must with top bidders winning a chalet in Morzine, France for a week in the summer.
Now that would definitely make our Christmas!
NOW READ THIS:
Judged by Tim Campbell, Will King, Te
rry Morgan CBE, Amit Bhatia, Matthew Hancock MP, June Sarpong & more