London was the top UK Region overall for consumer spending and remains the UK's economic hub and consumer spending in London grew by 33% between 2021 to 2022.
The only region to outpace this increase Year on Year was Northern Ireland which experienced an increase of 41%, which was the most growth in consumer spending in the whole UK between 2021 to 2022.

The top London areas for consumer spending in 2022 were Brent, Croydon & Tower Hamlets with the bottom London areas for consumer spending in 2022 were City of London, Hillingdon and Westminster.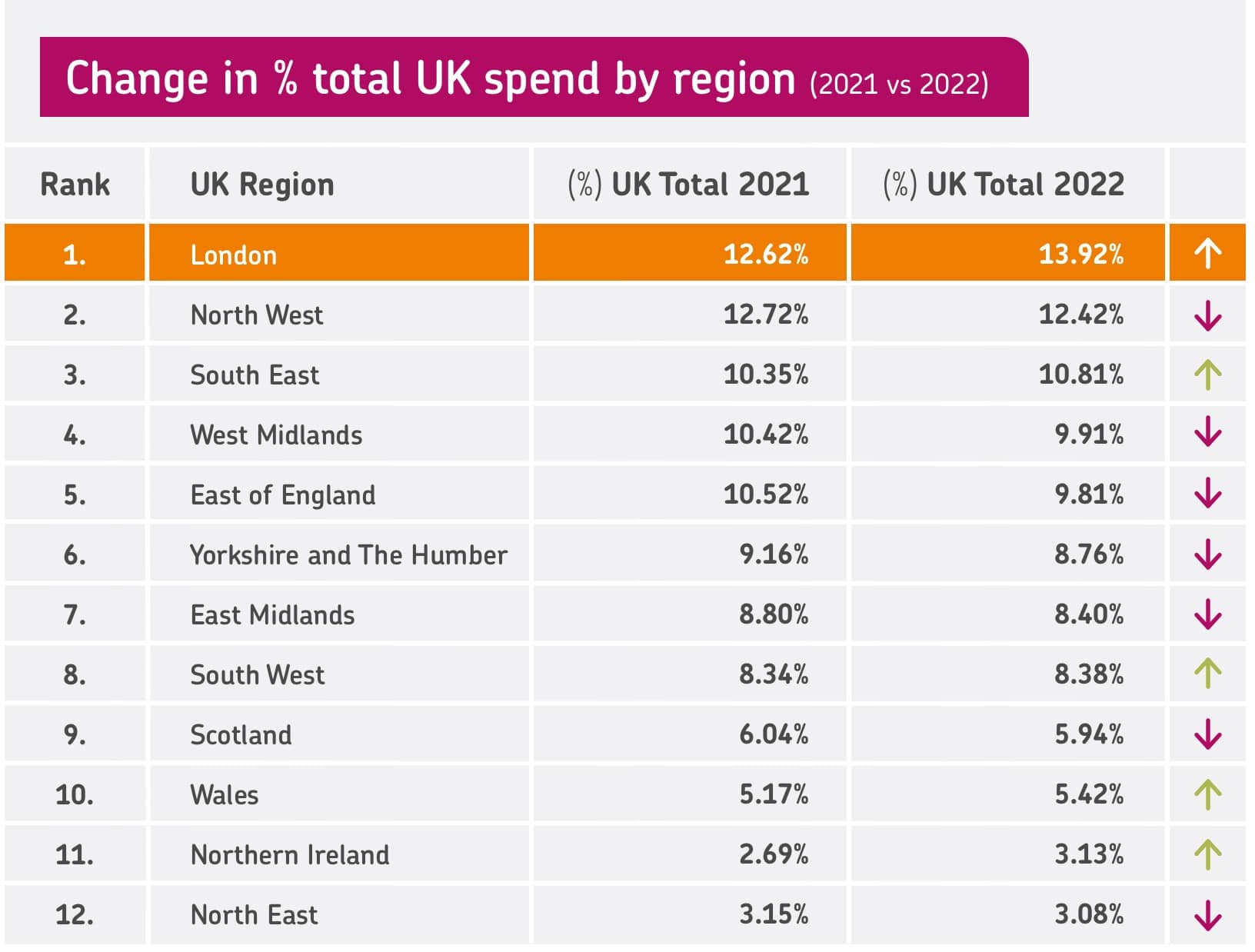 Jodie Wilkinson, Head of Strategic Partnerships at takepayments, said in response to the data, "It's interesting to see that despite the rise of remote working during and after the pandemic, London's economy still gained key ground in 2022.
"Our spending index shows that the Capital remained the highest-spending region in the country, increasing its share of the UK's total spending by 10%. It also grew from a 12.62% share of the UK economy in 2021 to 13.92% the following year.
"Supporting data from Natwest's UK Regional PMI report for December 2022 found that London outperformed other UK regions in economic growth, and it isn't slowing down.
Our data shows that London was the fastest-growing region in Q4 (5.2%), and according to the London Chamber of Commerce and Industry, during Q4, more than 1 in 5 of London businesses reported an increase in domestic sales and 1 in 10 of London businesses reported an increase in their workforce size.
"It remains to be seen whether 2023 will bring the relative stability needed to distribute spending away from London. Still, the data shows the capital remains the safest bet for potential investors."
Overall findings from the Spending Index also revealed that UK consumer spending in 2022 was 21% higher than in 2021 as the post-pandemic boom meets inflation.
Spending in restaurants and bars increased 20% in 2022, while many other industries declined, the travel industry saw the highest amount of growth year on year, with a 32% increase in spending from 2021-2022.