Are you?
The Bloomberg Square Mile Relay returns to the streets of London on Thursday 21st September. The global race series prepares for another sell-out event with 120 teams from top businesses across the financial services sectors competing to be named the fastest company in The City, taking on the new and improved one-mile route around the Square Mile.  
Since its inception in 2007, the phenomenally popular Bloomberg Square Mile Relay has grown to include 10 international cities with San Francisco, Sao Paulo and Tokyo joining the roster in 2017. With 27 races having taken place to date, Bloomberg Square Mile Relay runners have successfully completed 25,250 miles – that's the equivalent of running around the globe!  
Having never finished outside a podium position, and with six London victories to their name, Barclays are the team to beat with their 2016 time of 53:05 still the record. The Fastest Mixed Team award, introduced in 2016, also promises to be fiercely contested as female participation continues to grow year-on-year, with a total of 235 mixed teams having competed in the global race series to date.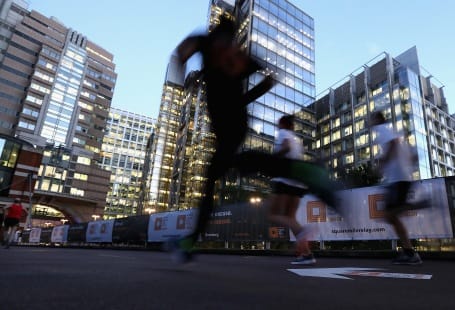 Source: Bloomberg Square Mile
While all teams will be striving for victory, at the heart of the event lies camaraderie, teamwork and the desire to give back to local communities. The Bloomberg Square Mile Relay series is a unique platform where companies can network, bond and collaborate outside the office environment.   
James Hassett, managing director, Square Mile Sport said, "Team-bonding and corporate wellbeing are the core tenets of the event that make it much more than just a running race, it's a one-of-a-kind experience that is inclusive for all the office.
"This year we're delighted to welcome our new sponsors World Wide Technology and London Executive Offices to the London event, and am sure they are as excited as we are to watch the city's top employers compete at the 11th edition of our race in the Square Mile."  
This year, Bloomberg Square Mile Relay is proud to partner with Create – a charity that explores the ways artists can contribute to the lives of people in cities.
As the official charity partner for the London race, create will be presented with a donation on race night and Bloomberg Square Mile Relay participants and their friends and families are invited to go 'The Extra Mile' and join Create for a unique volunteer opportunity in East London on Saturday, 7 October.
Volunteers will be a part of an ambitious capital redevelopment project to transform a Grade II listed former train station and surrounding lands into a new
community resource, including space to host artist-led community development programmes. Bloomberg has supported Create since 2014 and 'The Extra Mile' projects build upon Bloomberg's service-focused commitment to the cities where employees live and work.  
Bloomberg is the headline sponsor of the Bloomberg Square Mile Relay, now entering its 11th year and taking place in London, Shanghai, Singapore, Hong Kong, Dubai, Sydney, New York, Sao Paulo, San Francisco and Tokyo.   
Find out more about the race at www.squaremilerelay.com/london and secure one of the few remaining team places.