Incredible menus and sumptuous settings, without the pretentious vibes
We've come far as a nation, in the eating stakes (and in the eating steaks).
Remember the days when pub grub consisted of a mulchy white fish of indeterminate species, swaddled in layers of bubble-wrap-like batter leaking re-used vegetable oil and lying prostrate atop soggy chips?
Now you can barely find a pint of craft ale in London without stumbling over a Szechuan-spiced hand-reared oak-smoked slider with a side of kimchi and organic kale crisps on your way to the bar.
We are the gastropub generation.
But which gastropubs rule them all?
Which get that delicate balance right: food that impresses without being pretentious, original without being wanky, an atmosphere welcoming and warm without needing a waiting list?
Your search is over, dear readers.
The Publican's Morning Advertiser (the publication of the pub trade, in case you hadn't guessed) has released its annual ranking of the Budweiser Budvar Top 50 Gastropub Awards 2015, as picked by industry experts.
The list is for the whole of the UK, so we've picked out the London ones below. (Our numbering gives you each pub's overall UK position in brackets, after its placing just for London.)
London: 1 (UK: 10): Truscott Arms, Maida Vale, London

Setting: Newly refurbished five-storey Victorian pub
Sample dishes:
> Pan fried halibut with roast salsify, shrimps, cocoa bean, mango, coriander
> Glazed beef cheek with smoked mash, roasted carrot, cabbage, beef glazing liquor
Price: £22 for two courses; £26 for three courses (Saturday menu)
Bonus: It's been recognised as one of the most sustainable restaurants around, and sources from indy and local suppliers. It also offers loads of gluten-free dishes, clearly marked.
Setting: Michelin-starred food in a casual and relaxed setting, with a focus on game and wild food.
Sample dishes:
> Slow cooked shank of Herdwick lamb with grated swede, spinach, pearl barley and white carrot
> Cornish pollock with grilled leek, kale and brown shrimp
Price: £33.50 for two courses; £39.50 for three courses (lunch and dinner)
Bonus: It's the only Michelin-starred pub in London, and champions British produce.
3 (13): Bull & Last, Highgate, London
Setting:19th century coaching inn
Sample dishes:
> Wild Roast Partridge, Yellow Chanterelles, Gnocchi, Black Cabbage & Nuts – £24
> Chargrilled Onglet Steak, Chips, Mixed Leaf Salad & Garlic Butter – £22
Bonus: It's got a wicked-looking cheese selection featuring Tunworth, Taleggio, St Maure and other delights from the UK and Europe.
4 (16): Canton Arms, Stockwell, London
Setting: Think cosy and wooden
Sample dishes:
> Canton Lardo on toast, mustard fruits and radicchio, £8 (starter)
> Essex coast skate, chargrilled fennel and green sauce, £16 (dinner)
Bonus: It's scant on details – the website tells you barely anything – and it doesn't take bookings. So you can feel suitably in-the-know when you visit. Check its Twitter feed to see the latest menus instead.
Setting: Looks like a bar from the outside, feels like a pub on the inside. Not too big and perfectly central
Sample dishes:
> Chopped octopus, little gem and aioli, £8.40 (starter)
> Roast and confit mallard, semolina gnocchi, braised chicory and damson jelly, £16.80 (dinner)
Bonus: You can get a two-course "worker's lunch" for £15. Plus, it's right on The Cut – perfect if you want to carry on having cocktails in the excellent Baltic round the corner or are on your way to the Young Vic.
6 (29): Lady Ottoline, Bloomsbury, London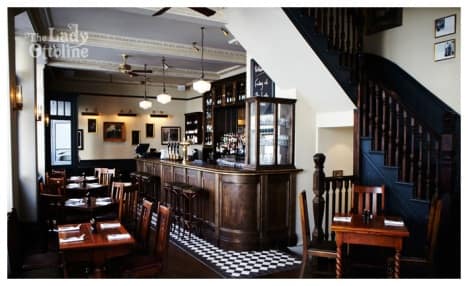 Setting: Beautiful restored building – think dark wood and lavender in the fireplace
Sample dishes:
> Pumpkin risotto, girolles, roasted chestnuts & parmesan, £13 (lunch)
> Dingly Dell pork, parsley mash, black pudding, baby onions & red wine sauce, £16.5 (dinner)
Bonus: More delicious bar snacks than you can shake a stick at. Look at the bar snacks menu!
7 (33): Smokehouse, Islington, London
Setting: Wood, antlers, pretty garden and a bad-ass smoker
Sample dishes:
> Smoked lamb shoulder, polenta, raclette & sambal,   £17.50
> Smoked pork belly, brown shrimp, udon & pear miso,  £18.00
Bonus: All the fish is from Cornwall, the beef from British farms, fruit and veg also from Cornwall and the smoking is done with sustainably sourced English oak. How's that for supporting British growers? And it's got more than 20 craft beers on offer. 'Nuff said.
8 (40): The Eagle, Farringdon, London
Setting: A gloss Hollybush ceiling and buttermilk walls, panoramic windows and solid ash floor. Mismatched tables and chairs, punters, young and old. World music and jazz
Sample dishes:
> Whole braised partridge, pancetta, cannellini beans and swiss chard, £15
> Bruschetta di caponata with burratina, £10.50
Bonus: Partial to a spot of art? Check out the Eagle Gallery, situated above the pub, which exhibits contemporary artists. It was one of London's first alternative gallery spaces, opening in the early '90s.
9 (50): The Parlour, Kensal Green, London
Setting: Vintage cool – tiled walls and Victoriana mirrored panels on the walls, with leather 50s-diner-style sofas and that trendy type of school chair
Sample dishes:
> Cold Carrot Soup, Grapefruit & Hazelnuts , £4
> Sea Trout, Samphire, Asparagus & Seaweed, £16
Bonus: A two-course lunch from Tuesday to Friday can be snapped up for just £10 – a complete bargain! We hear it does a mean breakfast too.
A note on the overall UK winner: The Sportsman, Seasalter, Kent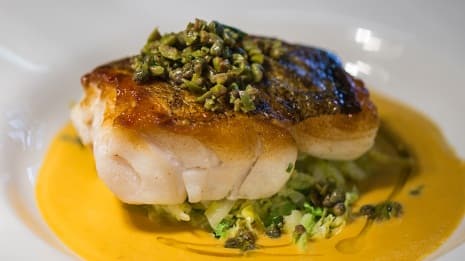 Fancy venturing further afield than our fair capital?
The overall UK winner in the list is The Sportsman in Seasalter, Kent.
I happened to go there last summer. And it was amazing.
It's had a Michelin star for eight years, but it couldn't be further from the stuffy, over-refined atmosphere that you might expect from cooking at that level.
The pub is cosy, the people working there could not be friendlier, and the menu is like discovering a Pirate's treasure chest full of every delicious locally sourced seafood delight you could dream of – often with an imaginative twist…
Think poached rock oysters with pickled cucumber and avruga caviar crab, carrot and hollandaise; roast gurnard fillet with bouillabaisse sauce and green olive tapanade. For meat options, think roast saddle of monkshill farm lamb with mint sauce.
Be sure to try the local oysters, and definitely have the thornback ray with brown butter, razor clams and sherry vinegar dressing if it's on the menu (which changes in line with fresh produce).
There's no pretentiousness – though if you want serious wine, the brothers who own it are serious collectors.
Then, after dinner, stroll down the moonlit beach upon which the pub nestles.
Combine a visit to The Sportsman with a night or two in nearby (and completely gorgeous) Whitstable, which is a short drive up the coast. You won't be disappointed – particularly if you're an oyster aficionado.
NOW READ: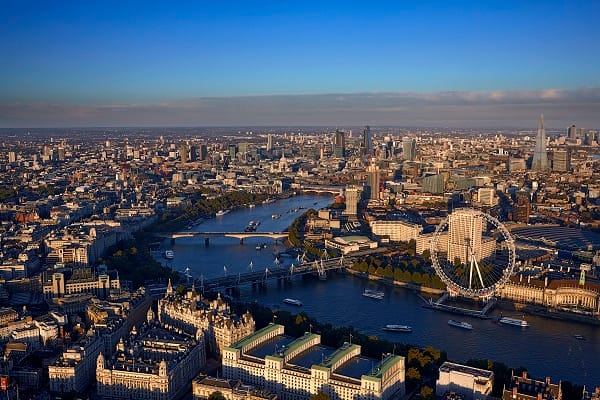 HAVE YOU SEEN THIS?