Fifty-one per cent of the British public see the UK economy as a big concern, an increase of ten percentage points since September, and the highest level of concern recorded about this topic since July 2013. Fieldwork was from 12 – 18 October, covering the period when Kwasi Kwarteng was sacked as Chancellor following a negative market reaction to his proposed changes to taxation and spending.
Inflation remains the second-biggest issue for Britain, mentioned by 38% (a decrease of 6 points since September). A quarter mention it as the single biggest issue facing the country (23%), down from 32% last month.
The NHS remains the third-biggest issue for the country, up two points to 22% this month. Concern about the health service has returned to the levels observed last winter, after dipping to just 13% in April.
There has been a significant rise in the proportion mentioning lack of faith in politics and politicians as a big issue for Britain, rising seven points to 16% this month. As noted above, fieldwork was from 12 – 18 October during the tenure of Liz Truss and Prime Minister.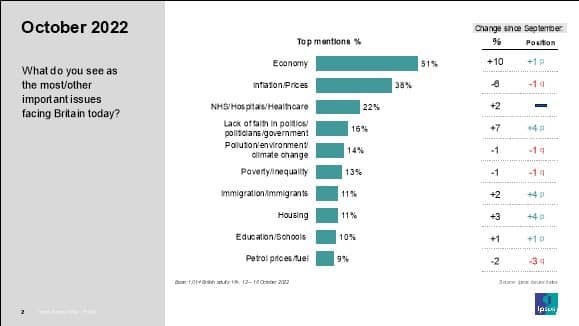 Although concern about the wider UK economy is higher than personal worries about inflation, this varies between different groups:
Men, people aged 35 and over, Londoners and those in social grades AB, C1 and C2 are among those more likely to see the economy as an issue than inflation
Women, people aged 18-34, and those in social grades DE are among those more likely to mention inflation than the economy
There is also a significant party political divide: while the economy is the top issue for Labour and Conservative supporters, who are equally likely to see the economy as a concern (both 53%), there is a 17-point difference on the level of worry about inflation (42% for Labour, 25% for Conservative).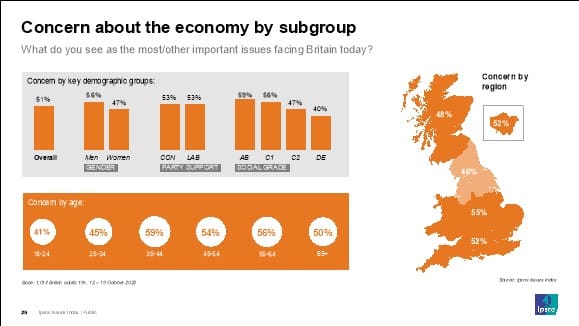 Mike Clemence, Senior Consultant at Ipsos, said, "This month we see the public focussing on threats to the wider UK economy over their own personal financial standing – although concern about inflation remains very high by recent historical standards.
"Fully half of the public see the economy as an issue, which is the highest score in almost 10 years"