The last Ipsos Issues Index of 2022 shows inflation continues to be seen by the public as the biggest issue facing Britain today (42%), seeing little change since last month (-3ppt).  Concern about the economy is similarly high at 4 in 10 (40%), down 5ppt since November.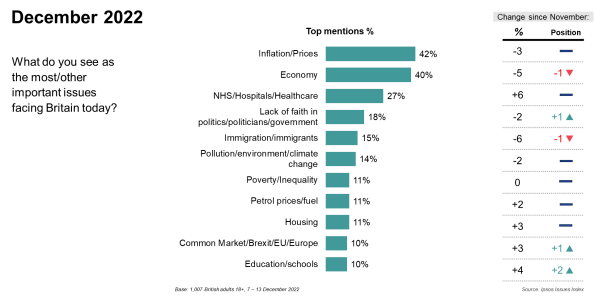 Inflation is slightly more likely to be emphasised by young people (54% of 18-34 year olds), public sector workers (51%), private renters (50%), people from ethnic minorities (52%) and Londoners (50%), while 45-64 year olds (49%), mortgage holders (49%) and high income groups (50% of those earning over £50k pa) are more likely to mention more general economic worries.
Following intensifying worries over waiting times for the NHS as well as nurse and emergency worker strikes, we see a rise in concern about the NHS/hospitals/healthcare, up from 21% last month to 27% now – its highest level since September last year.
Nearly 1 in 5 (18%) see lack of faith in politics/politicians/government as one of the most important issues facing Britain today, similar to last month (-2ppt), while mentions of immigration fall 6ppt to 15% in December. Older Britons (24% of those aged 65+) and Conservative supporters (25%) are most likely to be concerned about this.
Amidst the wave of industrial action, 9% spontaneously say trade unions/strikes are one of the most important issues facing Britain, outside the top 10 but still up 7ppts from last month and the highest since November 2002, when it stood at 11%.
Seeing financial worries continue at the top of the Issues Index is not surprising given the ongoing levels of pessimism about the economy.  7 in 10 (69%, down 3 ppts since November) think the general economic condition of the country will get worse over the next 12 months, while 14% (-2 ppts) believe it will improve and 14% (+4 ppts) expect little change. This gives an Ipsos Economic Optimism Index of -55, keeping it within the range of -53 to -56 we have recorded since July.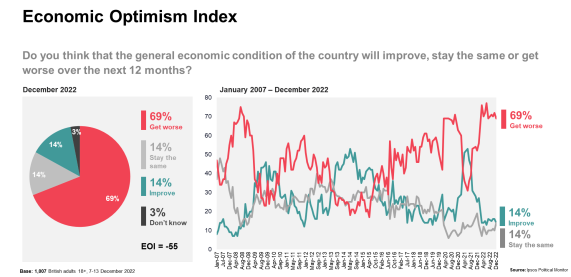 Gideon Skinner, Head of Political Research at Ipsos, said, "Inflation and the economy have dominated public concerns for most of 2022, and continue to top their agenda in the last Ipsos Issues Index of the year.
"And amidst bleak official forecasts this looks likely to continue, as Britons have little optimism that their financial situation will improve in 2023 either.
"But the economy is not the only thing on peoples' minds, with concern about the NHS in particular increasing as we head into winter.
"After these, immigration, climate change and a lack of faith in politics and politicians also continue as areas Britons are looking for improvement, while we also see an increase in mentions about strikes, which even if not at the top of most people's priorities have reached their highest level for 20 years."