The extended lockdown periods in the UK have caused significant disruption for many businesses. Even when it has been possible to operate commercially, businesses have often seen a lower footfall of passers-by and a diminished spend among customers who have sometimes been more cautious about their expenditure. That said, there have been plenty of businesses opportunities for forward-thinking companies that might have switched their usual method of delivering goods and services to their clients.
All of this, needless to say, has necessarily involved informing customers of changes and doing so successfully has meant effective marketing has been essential. This is exactly where an expert company in visual marketing, like 4Site Implementation, can help. What can 4Site do to help your business succeed during the lockdown and as the UK economy begins to normalise once more?
Significant signage
These days, many businesses rely on signage to draw attention to themselves. Whether you need site hoardings, mesh banners or even entire building wraps, 4Site has the know-how to make your signage eye-catching and informative. For some businesses, effective signage has been all about letting customers know they are still trading during the lockdown period. In other cases, signage has provided reassurance, perhaps with floor stickers that help to maintain predetermined routes or strut cards that enable customers to stick to social distancing rules more easily. We also produce high-quality pull up banners that can be deployed temporarily to remind visitors of altered working conditions as well as window graphics that can have a big visual impact in retail settings.
Lively livery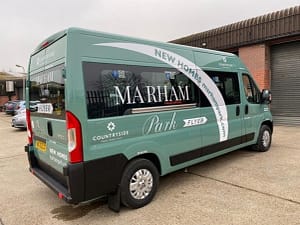 With many businesses operating with more of an online presence these days and fewer people out and about, there has never been a better time to invest in fleet vehicle livery. Given that many people will only interface with your brand online these days or when their delivery arrives, reinforcing your brand identity with your fleet makes a great deal of sense. Helpfully, 4Site's expert team of designers know exactly how to make your brand stand out on the road without being too 'in your face'. Our approach will help to augment your presence on the high street without overdoing it.
Marvellous marketing suites
Temporary marketing suites are widely used in the construction sector but they will suit many other types of enterprise that are adapting to lockdown conditions, too. A smart marketing suite which conveys all of your key brand messages but which is only used as and when it is needed is a great way of offering face-to-face meetings with clients in a safe and secure manner.
Of course, there are other areas of visual marketing where 4Site Implementation can also be of assistance, such as future exhibition stand designs or point of sale displays. Whatever your particular requirements, we will be able to assist. Why not get in contact and benefit from over ten years of experience in successful commercial marketing solutions?