SpareRoom founder Rupert Hunt on how his website is almost four times busier than his nearest competitor
It didn't take a Location, Location, Location fixation for Rupert Hunt to set up SpareRoom.co.uk. His impetus went more to the tune of frustration, frustration, frustration.
Frustration that is his dream of becoming a rock star had hit rock bottom, stacking nappies in Tesco had become his profession and to top that, Hunt's hunt for a flat in London was like counting the hair on his head.
Fed up, Hunt decided to set up a noticeboard for flatshares – online. Back in 1997, setting up a website was like manufacturing your own car in your backyard.
He called his rookie website IntoLondon.com and started seeing property punters logging on. Soon Hunt realised that finding flatshares isn't just a London thing. So in 2004, he bought the domain name SpareRoom.co.uk for $2000 and IntoLondon's national version went live.
Hunt designed the website completely on his own using some web design basics he learnt from an optional module he took while studying pop music at Leeds University.
And boy! did that optional module come in handy. 
Today, Spareroom.co.uk has a £2.8 million turnover and over 3 million registered users and accounts for 64% of the UK flatshare market. According to Experian Hitwise, the site is almost 379% busier than any competitor, a roster which includes Roombuddies, MondaytoFriday.com and Gumtree's flatshare section. The site has local versions in seven UK cities: London, Bristol, Birmingham, Leeds, Manchester, Edinburgh and Glasglow. Last year, SpareRoom launched in New York with 'SpeedRoomating', a roommate finding party where people can come and look for flatmates.
Hunt, 37, owns 95% of his business and hasn't taken any external investment for the business. Last year, he was offered £3.5 million for 49% of his business. He declined it with a polite "thanks, but no thanks".
Personally, his most coveted investment is a first class menu from the Titanic. He thinks "it's a modern day parable" and insists witha a wry smile that it's a sound alternative investment.
Hunt's business runs on the "freemium model" where people can pay to get an upgrade to bump their advertisements in search results. Over 80% users advertise for free while the rest are happy to pay to become more prominent in results.
But even to this day, paywalls on websites tend to shoo away users. So how the hell did Hunt make the model work for over 15 years now?
To find out, I meet Hunt at a café around the corner from SpareRoom HQ near Liverpool Street. About 6 foot 3 inches tall, chubby-cheeked and dressed in a navy-blue shirt, blue jeans and a green windcheater Hunt warns me that he's "terrible at interviews" as he gets "nervous as hell".
"So how did you manage to set up business then?" I ask him.
"I had broken up with a long-time girlfriend and my career was yet to get-going. So, I decided to move back with my parents in Cheshire and give the then IntoLondon a shot. I set-up an office in their shed, nothing glamorous – just a room full of spiders.
"Once the site was up, trying to charge people to use it felt outrageous. I expected everyone to say 'Get lost!' But to my surprise, people were willing to pay."
Hunt was inspired by the then trendy social networking site Friends Reunited as they charged £5 for a lifetime membership.  A few months down the line it occurred to him that if he put an expiry date on the £5 membership plan, he'd make more money.
To get people looking at the website, Hunt put adverts in local newspapers and newsagents' boards. But his trump card to drive traffic was SEO. "I was very good at SEO. Website marketing was just taking off back then. I managed to get SpareRoom well ranked for popular search terms. Combined with word of mouth promotion, the traffic and paid advertisers grew."
He may call himself shy but he started showing signs of being  a businessman when he was eight years old. "I would swap my toys for gold teeth that my friend got from his dentist father. I would then go and sell the teeth to high street gold merchants and buy more toys from the profits," he tells me, almost embarrassed.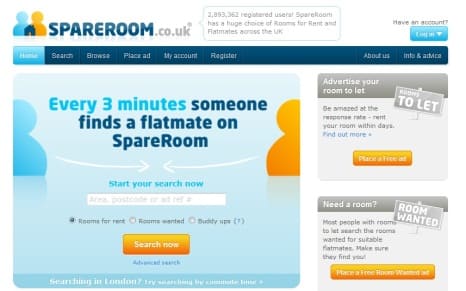 By July 2005, turnover of the company was £100,000 and profits were £30,000 but SpareRoom had competitors like Flatshare.com popping up. Feeling threatened, Hunt offered to buy Flatshare.
"Although Flatshare was quite basic, but it had a strong name and so had potential to become a threat – either the current owner deciding to improve the site or one of our competitors buying the domain. Also, 'Flatshare' has always been one of the most important search terms for us."
But Hunt admits he over-estimated the threat as "Flatshare's traffic has only ever been a fraction of Spare Room's and the gap has widened over the years", so he's planning to retire the site.  
"Every year there seems to be a big scare of some sort, such as a new competitor with lots of investment behind them or an existing competitor stepping up their game – for instance a few years ago Gumtree launched a massive offline campaign and suddenly there was a big Gumtree ad on every bus that passed and every tube train we got on.
"It's easy to panic and think it's the beginning of the end, and react in a knee-jerk way and launch your own campaign. But I think it's important to remember that they are up against the same uncertainty than anyone else is in business. Therefore, focussing on a well thought-out strategy is better than becoming jumpy."
To ward off competition, Hunt also acquired domain names like flatmates.com, roommate.co.uk, houseshare.com and hundreds of others.
Hunt then tells me that "almost every offline advertising campaign they've ever tried has been a distinct disappointment." In 2007, SpareRoom launched a magazine hoping it would sell like hot cakes and boost brand awareness. But the project bombed.
"With hindsight, it does seem like a step backwards. What I couldn't see at the time was we were going back on what the internet changed about the industry. Going from online to offline meant that we were dealing with issues like out-of-date adverts that we just hadn't had on the website."
He's not a fan of outsourcing either, he likes to do everything on his own, or at least in-house. By 2008, he had hired only two employees and the website still has chunks of code written by him. He now has 26 staff. He's still frugal with his cash, paying himself only a modest £60,000.
"Working with big companies, very friendly, very aggressive account managers would come along and convince you and you take them on board. Meanwhile the job is given to some junior who makes a mess of it. With freelancers, you've got the 21st century way of flexible working but nothing can replace working face to face to get things done.
I then ask Hunt if he think he's a control freak. He takes a long pause and chortles, "Ok, I guess I am a control-freak. I know the nuts and bolts of the site so I have high expectations but I'm a reasonable man. You'd think it'd be easy to find good people in the current climate but it's surprisingly very difficult."
This also explains Hunt's aversion to taking external investment.
"The offers are very tempting and I thought about the last offer [for 49% of SpareRoom] for months. But the business is profitable and quite enjoyable. It's an incredible buzz when you know you're helping thousands of people with such a basic need – housing. Why would I give that up?"
So no exit strategy planned then?
"Lots of people ask me what my exit strategy is, but I don't have an exit strategy. It's almost like everyone else starts with the exit in mind. I don't get why people do that. Why is there no interest in building it?"
he asks.
With no exit in sight, Hunt's plan for SpareRoom's future is to launch in more locations including Boston and Australia.
"The UK model is such a success, I don't see why it wouldn't work well in other places, where accommodation is expensive and in short supply. Sharing in big cities is a fact of modern life, and SpareRoom makes it so much easier to find the right people to share with.." 
But what about his dream of becoming a rock star? "It'll have to wait, SpareRoom is taking up all the room in my life." he sums up.