Heathrow Airport's chief executive, John Holland-Kaye has said he is "deeply concerned" the UK's Border Force won't cope with more Covid checks if all foreign travel resumes from 17 May.
Speaking to Sky News, Holland-Kaye said the Home Office and UK Border Force "need to get a grip" on the checks or change the system before 17 May.
He warned "We are focused on 17 May, we are getting ready to open up then, working with the airlines to make sure we can give a really warm welcome to passengers.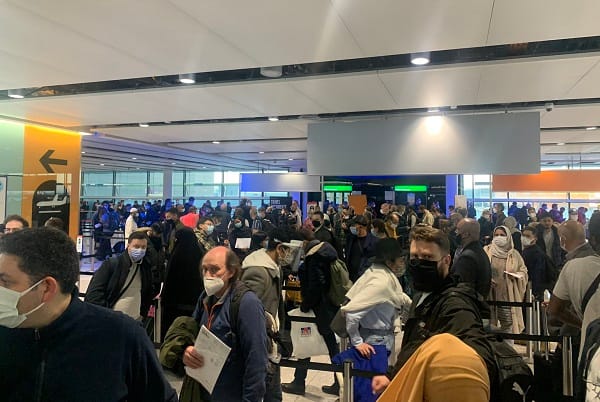 "But the key question is whether Border Force will be ready to receive those passengers when they come into the country, so they have a smooth journey through the airport and not the kind of lengthy queues that unfortunately we have seen too often in recent weeks.
"I am deeply concerned about that, they [Border Force] are struggling to cope with even the few thousand of travellers coming in at the moment, and all the additional checks they have to carry out.
"They either need to change that system or have more Border Force officers on the desks.
"Border Force and the Home Office need to get a grip on this ahead of 17 May so that immigration does not become a stranglehold on the UK's economic recovery.
"We are not getting enough engagement yet from the Home Office."
In March passengers were being forced to wait a staggering six hours to clear passport control with hundreds of passengers queuing shoulder to shoulder.
Travellers have expressed their fears of catching Covid as they are forced into close quarters at the airport with some passengers describing Heathrow as a "petri dish."
Speaking to the Commons Home Affairs Committee in March, Emma Gilthorpe who runs the airport, warned that Border Force are under a "huge amount of pressure" as there are "unacceptable levels of queueing."
Gilthorpe told MPs, that "we are seeing significant pressure on the border and we are seeing very long queues and that is a worry."
She added, "Now it is not uncommon to see queues of three hours and we have had queues extending out to nearly six hours on occasion.
"The extra layers that have been introduced are crippling the resourcing capability that Border Force has in place."