Government this morning released plans for the second phased of the £33bn High Speed Two (HS2), which will connect London to large swathes of the north more efficiently.
Heathrow, however, will be missing out for now. It will not be directly linked to the London Euston line because of uncertainty surrounding the expansion of the third runway that will not be decided until after the next election.
The first HS2 phase, expected to commence in 2017, will link London to Birmingham, cutting times to 49 minutes from 1 hour 24 minutes currently.
The second phase, announced today, will see the train line split at Birmingham, before branching off towards Leeds in one direction and passing though chancellor George Osborne's constituency in Tatton en route to Manchester Airport and Manchester's Piccadilly Station in the other.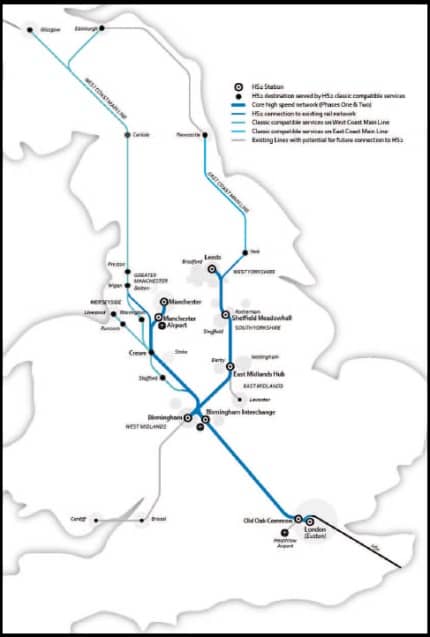 Source: Department of Transport
London to Manchester travel times will now be halved to 1 hour and 8 minutes, while journeys times to places like Liverpool will also be reduced. The plans for HS2 will be finalised in 2014 and if all goes according to plan, the route will open by 2033 at the latest.
"There is a very strong business case for HS2," Labour peer Lord Andrew Adonis, who commissioned the project, told City A.M.
"Without a new high-speed line we will end up spending more money upgrading the existing Victorian railway which is nearly 200 years old and incapable of adding significant extra capacity."
But not everyone is pleased. The high-speed rail has proved controversial with some businesses and communities, fearing that the high-speed train will damage their local areas.
Economic critics, on the other hand, say that despite the hefty price tag the project will fail to revive northern economies.
Comment roundup:
Corin Taylor, senior economic adviser said:
"Air and rail needs to be much better connected, and so it is very welcome to see the Y-network serving Manchester airport directly," said Corin Taylor, Senior Economic Adviser at the Institute of Directors.
But by the same token it is disappointing to see a direct connection to Heathrow left out altogether. If the Davies Commission recommends that Heathrow should remain the UK's main hub airport, then the first section of HS2 ought to run through Heathrow, not around it."  
John Cridland, director-general, said:
"We cannot sit on our hands when the West Coast Main Line is set to reach full capacity by the 2020s and freight will be squeezed.
"Extending HS2 to the North is the project's big prize. It will boost the economic potential of some of our biggest cities, driving growth and creating jobs across the country. This is the same bold, long-term thinking that helped the Victorians build our original network.
"HS2 cannot be built in isolation so we need sustained, additional capital investment in existing road and rail networks to meet increased demand. Ministers must work hard to secure real consensus on the route, to avoid the project being hit by years of delays."
Institute of Economic Affairs
Richard Wellings, head of transport, said:
"The extension of High Speed 2 to the North of England is very bad news for taxpayers and the wider economy. The project's £34 billion-plus bill – over £1,000 per household – will destroy jobs and force businesses to close across the UK, including in the North. Many areas along the route may also be affected by planning blight.
"The government is deluded if it thinks HS2 will regenerate the North. The region's long-term economic problems will not be solved by faster rail links to London. Towns such as Doncaster already enjoy fast links, but remain among the poorest places in the country. Indeed, HS2 will be used as an excuse to waste billions more on flawed regeneration schemes in northern cities, at further expense to taxpayers. High Speed 2 is being driven forward by politics, not economics."
British Chamber of Commerce
Adam Marshall, director of policy, said:
"Business welcomes the Prime Minister's commitment to extending high-speed rail to the great cities of the Midlands and the North. Transformative infrastructure projects like HS2 create confidence, jobs and competitiveness, as long as commitments and announcements lead swiftly to action on the ground.
"Our existing railway network is at capacity and cannot be endlessly patched up at astronomical cost, as opponents of HS2 continue to suggest.
"Yet we hope ministers can go further still. Alongside the commitment to extend the line to Manchester and Leeds, they must envision and plan for a full national network.
"Finally, business is concerned at the news that the proposed link to Britain's only global hub airport, Heathrow, has been put on hold. This is an unwelcome consequence of the government's near-complete paralysis on the crucial issue of aviation and global connectivity."