Jacobi Company Lists Europe's First ETF in Amsterdam, Unveiling the Jacobi FT Wilshire Bitcoin ETF.
This ETF marks a pioneering effort in the realm of digital currencies, offering a groundbreaking integrated solution that verifies Renewable Energy Certificates (RECs), enabling investors to access Bitcoin's benefits while achieving ESG goals.
The ETF, regulated by the Guernsey Financial Services Commission (GFSC) and trading under the ticker symbol BCOIN, incorporates security services provided by Fidelity Digital Assets and market-making by Flow Traders.
The fund's benchmark is the FT Wilshire Bitcoin Blended Price Index, created in collaboration with the digital currency platform Zumo, and features the REC solution.
Europe's lead in launching Bitcoin investment funds for investors seeking secure access to the digital currency market through familiar and regulated vehicles like Jacobi's ETF is truly exciting.
In contrast to other products in the European market that function as debt instruments, this fund directly holds the underlying asset.
Jacobi's support from global Tier1 partners for developing the digital asset market, coupled with its innovative and environmentally sound solution for European investors, sets it apart.
The introduction of the Jacobi ETF marks a pivotal moment in the digital currency realm and a turning point in the global financial industry. I believe this will enthuse investors to engage with the digital market through a premier company shaping top-tier digital asset standards.
Through this fund, the company offers an ESG-compliant digital currency investment solution, enabling ETF buyers to hold Bitcoin in their investment portfolios, along with independently auditing financial claims outside the company's accounts. Notably, the Jacobi fund distinguishes itself by being environmentally friendly.
It measures the electricity consumption attributed to Bitcoin mining within the ETF and purchases equivalent sets of Renewable Energy Certificates (RECs), the standardized instrument for buying clean energy. This provides digital proof of registered RECs on a transparent blockchain network, addressing a key challenge that the digital currency sector has faced.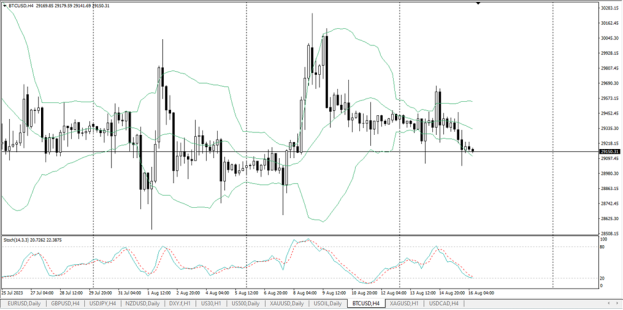 Source: Four-hour Chart of BTC Prices – MetaTrader 4 Platform by XS.com.
I believe that the launch of this ETF will serve as an institutional catalyst for digital asset adoption. In the above chart, we don't observe any immediate impact of this event on the digital markets, as Bitcoin's price has declined by 0.85% over the past 24 hours, reaching $28,914, while still retaining a weekly gain of 1.99%.
However, in the medium and long term, this significant event in the world of digital currencies will undoubtedly have a broad resonance. It will support the rise of digital assets, led by Bitcoin. Therefore, I see that any future declines present an opportunity to buy Bitcoin and hold onto it for the long term.