Annual inflation in the OECD area slowed significantly to 1.7% in March 2020, compared with 2.3% in February, the largest deceleration since the financial crisis, as energy prices fell by (minus) 3.6% in March following a rise of 2.3% in February.
Food price inflation, on the other hand, increased to 2.4% in March, from 2.0% in February. Excluding food and energy, OECD inflation was broadly stable at 2.1 % in March, compared with 2.2% in February.
Estimates for the OECD area in April are not currently available but Eurostat's flash estimate for the Euro area points to inflation continuing to slow (to 0.4% compared to 0.7% in March) on the back of further falls in energy prices.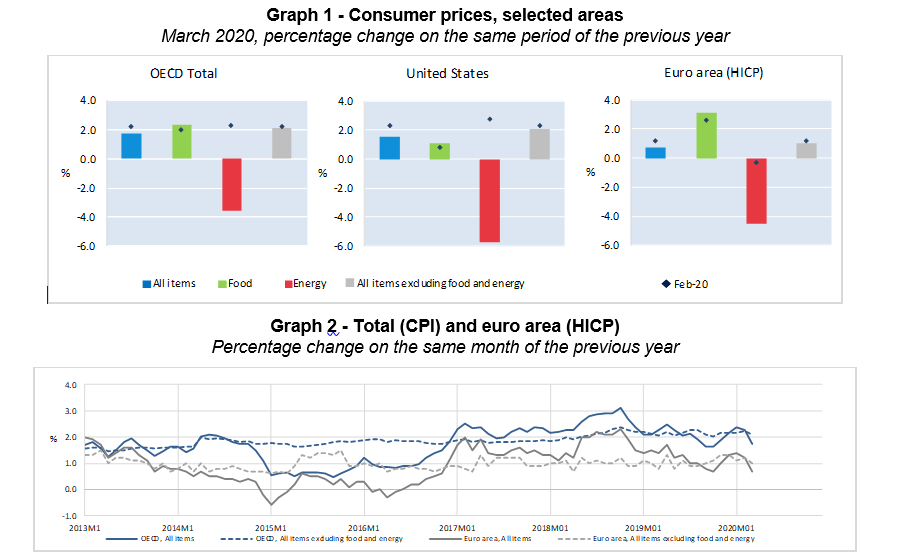 In March 2020, annual inflation slowed in all major economies except Japan where it was stable at 0.4%. Annual inflation decreased sharply in Canada (to 0.9% in March, from 2.2% in February), the United States (to 1.5%, from 2.3%), France (to 0.7%, from 1.4%), and more moderately in Germany (to 1.4%, from 1.7%), the United Kingdom (to 1.5%, from 1.7%) and Italy (to 0.1%, from 0.3%).
Annual inflation in the Euro area, as measured by the HICP, also decreased sharply (to 0.7%, from 1.2%) but more moderately, when excluding food and energy (1.0%, from 1.2%).
Among non-OECD G20 economies, annual inflation decreased in Argentina (to 48.4%, from 50.3%), India (to 5.5%, from 6.8%), China (to 4.3%, from 5.2%), Brazil (to 3.3%, from 4.0%), South Africa (to 4.1%, from 4.5 %), and Indonesia (to 3.0%, from 3.1%). Inflation increased in Saudi Arabia (to 1.5%, from 1.2%) and the Russian Federation (to 2.5%, from 2.3%). Annual inflation in the G20 area as a whole also decreased to 3.2% compared with