With over 80% of the UK population making purchases online, retailers and ecommerce businesses rely on a solid supply chain and delivery services to get their products to their customers.
However, due to the working conditions of drivers and the stress that they come under, resulting in strikes across the UK in the logistics industry in 2022, as well as heighted delivery expectations from customers, customers have been experiencing botched deliveries more than ever before.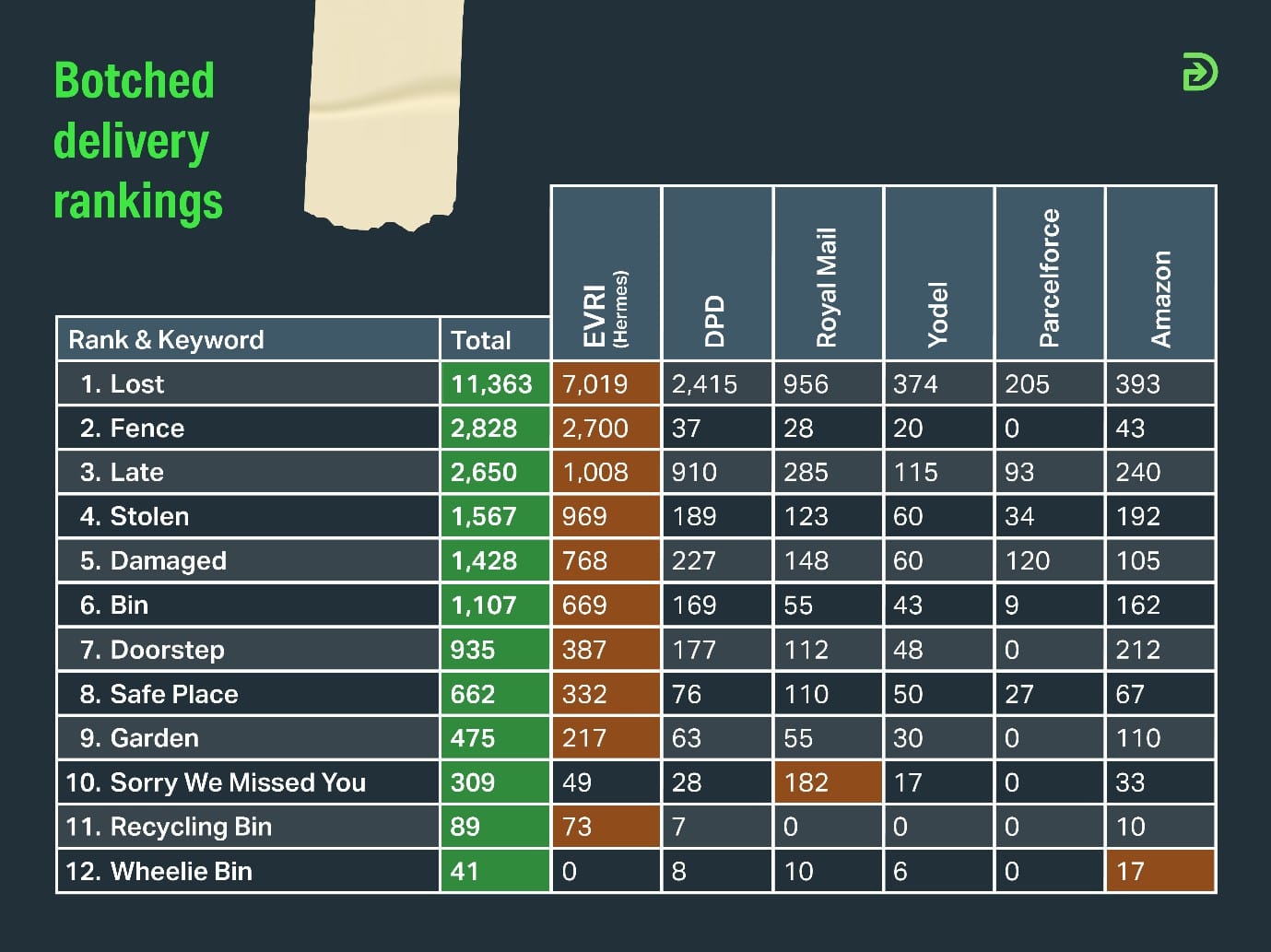 A new study by DeliveryApp, a leading same-day delivery tech firm has uncovered the most common complaints about delivery companies on social media across the UK, to see where the problem lies for individual couriers and the logistics industry as a whole.
ONLINE CUSTOMERS TAKE TO SOCIAL MEDIA, MAKING OVER 56,000 COMPLAINTS ABOUT THEIR DELIVERIES 
Taking a look at the UK's top six courier companies, including EVRI, DPD, Royal Mail, Yodel, Parcelforce and Amazon a total of 56,368 complaints were made on social media against the service that these couriers provided in 2022.
No stranger to public scrutiny, Evri coming tops both London's list of most complained about delivery company, as well as overall winner, with 55% of complaints may be no surprise to customers of their service. Just in December, MPs had called for an explanation over "poor performance" from Evri, and a petition was created by consumers with lost deliveries claiming the company was breaching trading standards.
PEOPLE IN LONDON HAVE SUFFERED THE MOST WITH BOTCHED DELIVERIES
Whilst the majority of complaints across all locations focus on parcels that were lost or delivered over a fence, those reporting damage is more of an even split across locations and couriers. Whilst Evri takes the top spot again, it's DPD, Amazon and Royal Mail that customers have complained about damaged parcels the most – everywhere from Hull to Glasgow.
Overall, the majority of this complaints about various delivery mishaps comes from people living in London, with 62% off all mentions about the courier companies studied, being negative. Of the complaints made online, 61% of them were about Evri, with complaints spiking over last years Christmas period.
Furthermore, Manchester takes second spot with receiving 1,755 delivery complaints across 2022 and Birmingham follows close behind with 1,450. Interestingly, while Glasgow has a population three times the size of Liverpool, the scouse have taken to socials 183 times more to complain about the level of delivery service they have received.
EVRI, DPD AND ROYAL MAIL HAVE THE MOST LOST PARCEL COMPLAINTS
With over 11,000 total negative complaint posts about lost parcels, Evri, DPD and Royal Mail received the most, with Evri alone reaching over 7000. Furthermore, DPD received 20% of comlaints about lost parcels, and Amazon got off lightly with 3% of lost parccel complaints complaints.
Evri also came top with the most complaints regarding deliveries to bins and over fences – a place that delivery drivers have taken to deeming a "safe place", as they face ongoing pressures from their employer to deliver an unrealistic amount of drop offs per shift, meaning that drivers do not have the choice but to focus on quantity of deliveries rather than quality.
In London alone, 1,422 have taken to social media to complain about a parcel being lost, and 130 unlucky Londoner's exclaiming that their delivery was placed in a bin. Of the driver couriers studied, regardless of thier negative press, Amazon deliveries were least complained about in London last year, only taking 2% of complaints.