Find out more
The classic car market has been booming over the last two decades. But in 2016 the value fell by 10.4 per cent. Despite this, classic cars are still proving a sound investment, with the most advantageous returns since private bank and wealth manager Coutts began its index in 2005.
Finance brokers Moneypod have created a guide looking at which of those car investments of the past have paid off, which didn't, and how to spot a future classic.
In 2016 the value of classic cars dropped by 10.4 per cent
8.2m people in Britain are interested in classic vehicles
There are one million registered classic vehicles in Britain with 605 of those being registered for road use.
35,000 people are employed in the classic vehicle industry in Britain.
The most expensive classic car is the Ferrari 250 GTO from 1962. Originally designed to race, it was made even more rare by only having 39 made.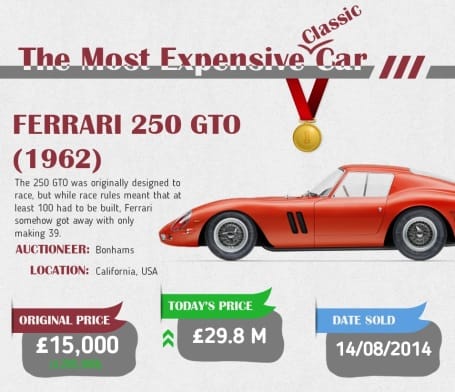 Source: Moneypod
Owners of this car include Lawrence Stroll, a Canadian investor who was named on the Forbes 2016 list of the world's billionaires and has a net worth of US $2.4bn and Nick Mason, drummer for Pink Floyd. He owns chassis number 3757, as they are affectionately referred to by GTO enthusiasts.
The last one sold in 2014 and if you were to buy one today, you'd have to fork out around £29.8m!
It's said that owning a Ferrari GTO is a ticket to the billionaire's club, but if you haven't quite got the cash to spare, MoneyPod's guide will give you some tips on how to spot a future classic. You might just be able to nab yourself a bargain.