For long-term Bitcoin investors, early December 2013 must seem like a long time ago.
Back then, the virtual currency was valued at around $1,150 per coin (£719 at today's exchange rate).
Over the weekend, it tumbled to below $300 – the lowest point it has hit this year.
Virtual currency site Coindesk.com put the price at a low of $286 (£179) on Sunday, some 75% lower than its all-time peak price just 10 months ago.
It is now up again at over $300, but investors are still understandably worried.
Bitcoin commentators have suggested a wide range of theories about the causes of the price drop, from growing pains, to currency manipulation, to the impact of advanced trading tools, to a conspiracy theory that the US government is trying to destabilise it – and even that the CIA in fact created Bitcoin.
Whatever the causes, Bitcoin has been on a complete rollercoaster.
The chart below, from Coindesk.com, shows how the price of Bitcoin has changed over the past 18 months (this chart shows the price up to 4 October).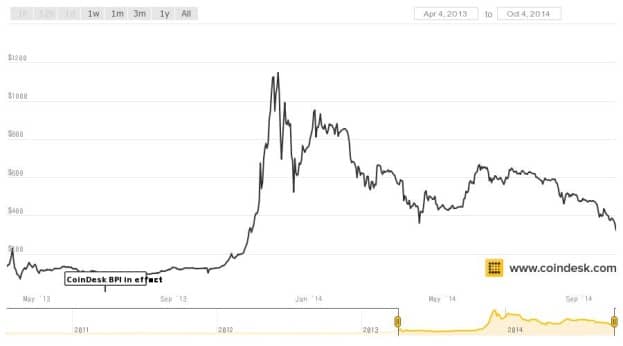 Source: Coindesk.com
Still unsure about what Bitcoin is exactly and why everyone's so excited about it?
This is my favourite video explaining how Bitcoin works and its potential and importance, from Vox.com.
What is FireChat and why is everyone talking about it?