Just look at this beast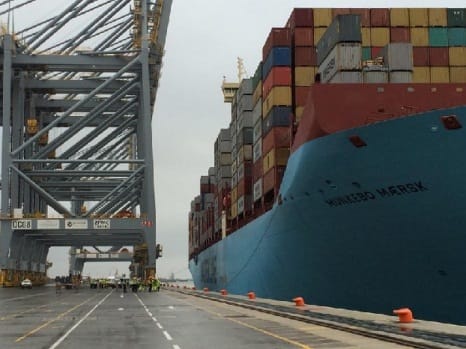 A 200,000-tonne ship, the size of four football pitches, has entered London. Look at the state of it. It's enormous.
The Munkebo Maersk, which is a brain-scrambling 400m long, is loaded with goodies for Britain including electronic things and clothes.
The ship arrived at the London Gateway port at 7am this morning, and will set off again at 3pm this afternoon.
It can hold 18,000 of those huge metal shipping containers.
Port of London CEO Robin Mortimer said: "Welcoming ships of this size is becoming business as usual for our pilots & harbour masters."
Luckily the London Gateway port is equipped to deal with vessels as gargantuan as the Munkebo Maersk, and is using cranes a ludicrous 138m tall to offload the containers, which are stacked up like Lego bricks on top of one another.
The port itself is a marvel in its own right too. It is a deepwater port, allowing colossal ships to dock, and has a two-mile long quay. In total the area the port takes up is roughly twice the size of the City of London.
The London Gateway has a pretty great Twitter feed too, on whch it's been posting photos and updates on the ship's progress. Here are a selection from this morning:
Here she comes… Munkebo Maersk, the largest ship to ever sail on the Thames, approaching DP World London Gateway. pic.twitter.com/T2dH1fsX73

— London Gateway (@LondonGatewayUK) February 26, 2015
The 400m long, 195,000 ton Munkebo @MaerskLine pulling alongside at London Gateway, 25 miles from centre of London pic.twitter.com/uWcRXg11De

— London Gateway (@LondonGatewayUK) February 26, 2015
Munkebo @Maersk was safely guided into berth by PLA patrols. She'll later head for the Far East @LondonGatewayUK pic.twitter.com/sRWQ42qgPa

— LondonPortAuthority (@LondonPortAuth) February 26, 2015
#MunkeboMaerskin port at @LondonGatewayUK. #HUGEEEpic.twitter.com/cwoaxIl93m

— Taralyn Phillips (@TaralynPhillips) February 26, 2015
Now read