New polling from Ipsos finds that King Charles III will be formally ascending the throne in good stead with the British public.
Half (49%) said that they think King Charles is doing a good job as King, a share that's down from the peak seen just after he became King following the death of Queen Elizabeth II, but in line with his previous ratings as Prince of Wales, including around the time of the Platinum Jubilee.
A third (32%) said he is neither doing a good nor bad job (+7 on March 2023), whilst just 9% said he is doing a bad job (-5). This is the lowest rating for bad job since the question has been asked.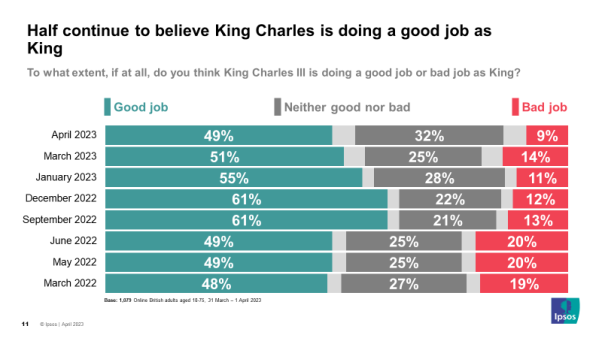 In a separate poll, almost three in five (57%) say they are satisfied with the way King Charles is doing his job as Monarch, down 8 percentage points compared to when the public were asked whether they were satisfied with how he was doing as Prince of Wales in May 2022, ahead of last year's Platinum Jubilee.
This compares to 15% who say they are dissatisfied (18% in 2022, while don't knows have risen).
A clear majority of the public are satisfied with how Prince William is doing his job as Prince of Wales (62%), compared to just one in ten (10%) who say they are dissatisfied (though just before the Platinum Jubilee last year, satisfaction with William as Duke of Cambridge was even higher, at 81% – the change again mainly being due to higher numbers of don't knows for William in his new position).
The public were also asked to select, from a list, which two or three members of the Royal Family they liked the most. Most frequently named was the Princess of Wales, with mentions from almost two in five (38%).
She is followed by her husband Prince William, the Prince of Wales (34%), any of the King's grandchildren (27%), and the Princess Royal, Princess Anne (25%). King Charles III received 20% of mentions, placing him in the middle of the pack.
The less favourite members of the Royal Family included the Duke of Sussex, Prince Harry (14%), the Duchess of Sussex, the former Meghan Markle (10%), the Duke of Edinburgh, Prince Edward (11%), the Queen Consort (10%),and the Duke of York, Prince Andrew. 1 in 5 (18%) said they liked no member of the Royal Family.
Kelly Beaver MBE, Chief Executive of Ipsos UK and Ireland, said, "With less than two weeks until the Coronation, King Charles may be happy to know that half of Britons think he is already doing a good job, numbers recent Prime Ministers would envy.
"It's a good start for Britain's new King and something he will no doubt want to continue to work on once the Coronation Quiches are eaten and the bunting is down."