Here's hoping we forget some of these jokes in 2015
1. I'm planning on finding new and interesting things to hate about my job in 2016.
2. Just heard that in 2016 there will be a new device that can turn thoughts into speech. I have had that for years, it's called alcohol.
3. New Year's Day… now is the accepted time to make your regular annual good resolutions. Next week you can begin paving hell with them as usual. – Mark Twain
4. My New Years resolution is 1080p.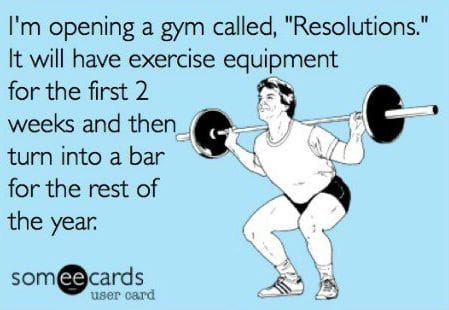 6. Every New Year's I have the same question: "How did I get home?"- Melanie White
7. My new year's resolution is to be more optimistic by keeping my cup half-full with either rum, vodka, or whiskey. – Unknown
8. You know it's time for a New Year's Resolution to lose weight when you step on a talking scale and it says, "One at a time, please!" – Unknown
9. 2012: I will get my weight down below 160 pounds.
2013: I will follow my new diet religiously until I get below 180 pounds.
2014: I will develop a realistic attitude about my weight.
2015: I will work out every day.
2016: I will try to drive past a gym at least once a week and eat fewer cookies