More often than not your PPC ads will be the first touchpoint a person will have with your business or brand, which means you need to do all you can to make an impact – and that all begins with writing great PPC ad copy.
If you're new to this then brace yourself because it's going to be a bumpy journey, never has the phrase 'if at first you don't succeed, try, try and try again' been so relevant as it is when it comes to generating ad copy that works.
Don't let that put you off, our awesome Liverpool based PPC experts have put together their top 10 tips to help you.
How to structure your PPC ad
Before we get into their tips and tricks, it's important to understand how your PPC ads need to be structured as each platform will come with its own set of rules as well as offering a few different ad formats.
We'll be focussing on Google Ads as they will give you a sound base on which to hone your copywriting skills.
Tip 1 – Cut the waffle
There's no time to waffle when it comes to your PPC Ad Copy, you have limited space and every element is there for a reason. You'll also be given a max word count, do your best to fill that count. The more characters you have, the bigger your ad will be – and sometimes, size does matter!
Final URL: This is the URL where you visitors will land and, as it won't be visible, you just need to add in your landing page URL.
Headline 1: This is the big one – the main event. Your attention seeking headline needs to match the exact search term and the message that's displayed on your landing page.
Headline 2: This is where you can showcase your special offer or USP. Be as specific as you can and (as we'll learn later0 be honest – no click baits please!
Headline 3: This isn't always show so you can populate this section with some non-essential information or info on your brand.
Display Path: Don't confuse this with the Final URL, your display path is for viewing purposes only. While it won't change where users end up, it can influence their decision on whether to click or not so include your keywords if you can.
Description 1: You'll only have a few sentences to stake your claim so use it wisely, including your keyword and a specific call to action so people know what is expected of them.
Description 2: This might not be shown, but don't leave it out. You can populate this by answering possible questions that potential buyers might have and maybe even a secondary offer.
Tip 2 – Correct punctuation and sentence case
This isn't just about making sure you spell everything correctly and use the right punctuation to please the grammar police, but it can result in ads being disapproved.
There are certain features that you need to stomp out right now including:
Exclamation mark in the ad's headline
Repeated punctuation or symbols
Symbols, numbers, and letters that don't adhere to their true meaning or purpose
Non-standard use of superscripts
Non-standard symbols or characters
Bullet points
Full stops, question marks and the odd comma will be your best friends when it comes to writing your PPC ad copy headlines.
You'll have a little more freedom in the description text but you still need to avoid writing long complex sentences. Short sentences are more memorable, and keywords placed at the beginning or end will be even more powerful.
Oh, and don't go all in with improper capitalisation, for example, writing the word FREE in all caps can cause your ad to be rejected.
Tip 3 – Every character counts
Research has shown that users spend less than 3.4 seconds scanning the top 5 search results. That's not 3.4 seconds each – it's in total…mind blowing!
That means you need super powerful, engaging words to turbo charge your copy and turn it into an attention-grabbing machine.
But remember the word count that we mentioned earlier! You need to do all of that within a confined space. It might look daunting but with the right tools and experience you'll get the hang of it.
Be concise, use simple words and replace explanations with a single word whenever possible Eliminate nouns that are used as adjectives. Essentially you need to cut to the chase and avoid unnecessary phrases that clutter your sentences.
Tip 4: Do your research
Once you dip your toe into the world of PPC ads, then your competition can change significantly as you're now competing with other companies who are bidding on the same keywords.
For example, if you're a small business who makes and sells face creams and want people to find you by searching face cream then you might need to either think creatively and change your keywords, or win the lottery, because you'll be going up against the likes of Estee Lauder and Clarins.
If you're unsure who you'll be going up against then the simplest way to search is simply opening a private window and searching for your chosen keywords.
There are plenty of other platforms and tools you can use but this is the simplest way to look at what's going on the marketplace.
Things to look for while you're searching are:
Which companies appear in the top 5 and are there any unexpected results?
What language are they using in their ad copy, what are their CTAs and what offers are they promoting?
How can you beat what they have to offer? Can you beat their price, offer a more personalised service, are you quicker or local?
Even just a basic level search like this might through up some unexpected competitors but can also help you create a more focussed and engaging ad.
Tip 5: Tell the truth
Your ads and your landing pages must work together in order to create conversions. In order for them to work together they need to be consistent – with the same message, offers and information.
Failing to do this can lead to bad reviews which can be extremely damaging for any business.
For example, if you a selling a product and you state there is no minimum order needed then this must be true. You can't then tell people there is a minimum when it comes to your checkout page.
If your ad says your coats come in 5 colours but you only sell black coats then you're misleading people – you get the picture.
Once you break trust then there's no going back.
Tip 6 – Match problems to solutions
A buyer's journey can be split into three stages; awareness, consideration, and decision.
Understanding your customer's journey can really level up your ad writing skills so ask yourself what problem you solve. Do you help someone sell their home easier, offer low interest loans to help people clear their credit card debt…you get the picture!
Once you've identified the issue you can then explain what your solution is and why people should choose you over your competition.
Tip 7 – Don't ignore organic searches
You can learn a lot about writing ad copy by looking at the organic search results (which live under the ads at the top of page 1) as it can give you a better understanding of the search intent for your chosen keywords.
Google's aim is to match organic search results with users' search intent, which means it looks at the type of content that it thinks people want and then it prioritises certain types of content when it thinks that's what people will find most relevant.
Using this knowledge, you can craft better ad copy that falls in line with what your target audience are searching for and why.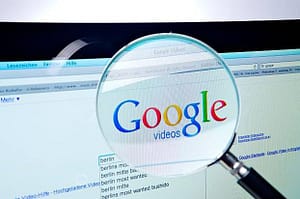 Tip 8 – Headlines matter
8 out of 10 people will only read your headline which is why you need to spend a disproportionate amount of time writing a great one.
Your headline needs to make you stand out in a crowded marketplace and give people a reason to read on and do what you're asking them to do.
You MUST make sure your keyword features in your headlines, and don't just shove it in anywhere. People tend to remember the first few words and the last few in any sentence, and shorter sentences are far more memorable than long, complex ones.
As the Godfather of marketing, David Ogilvy, said; your headline is worth 80 cents of every dollar….so don't waste it.
Tip 9 – Include a call to action in your headline
Headlines are that important we couldn't resist adding this gem in. Make sure at least one of your headlines includes your call to action.
If you think of how many messages we see in any one day, it's hardly surprising that we need some simple, straightforward guidance.
We're all bogged down with decisions upon decisions upon advert upon choice that we often don't know where to begin. So tell your customers what you need from them.
Tell them to go to your website and fill in a simple form – and make sure that form is simple if you do say that (see Tip 5)
Do you want them to call now? If they do call now then will you answer – what if they see the ad at 1am in the morning?
Keep your call to action short and specific and tell users exactly what to do and when to do it.
Tip 10 – Consistency is king
Marketing your business needs an omnichannel approach, you can't throw all of your eggs in one basket and hope for the best.
So, when it comes to planning out your marketing strategy you need to keep your message, your offers and your brand consistent.
More often than not, a potential customer will have to come into contact with your brand on more than one occasion before they decide to buy. In fact, one of the rules of marketing is that need to have 7 touch points before they engage with you….SEVEN!
So, it goes without saying that the more channels you're on, the more chance there is of conversion.
By spreading yourself around you're also able to target people at different stages of the buying cycle more effectively.
Just remember to keep the consistency in your message and your creatives and while this will all take time you can always repurpose your awesome ad copy across the different platforms to save yourself some time.
And finally…we couldn't resist throwing in this one as an added bonus….
Tip 11 – The unspoken rule
When you're looking at PPC ads, you'll notice they're all written using what's known as title case, which means that all words start with a capital letter (apart from words like a, the, and etc)
There's no rule to state that this is how it has to be but a study carried out by Periscopix found that ad copy with title case outperformed sentence case (where just the first letter in each sentence is capitalised.
It's unnatural to start with but stick with it, it does work!